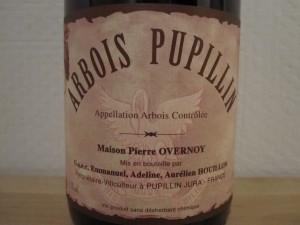 Located East of Burgundy approaching Switzerland, the Jura is perhaps more "known" for it's white wines made with the Chardonnay and Savagnin grapes.  For example, the slightly oxidized, "flor-enhanced" Vin Jaune.  However the "reds" made with the Poulsard grape (as found in this bottle), are perhaps more interesting.. At least to me..
After Pierre Overnoy retired, the Houillon family took over the domain. They have continued in the same manner as Overnoy (from what I understand). That is, as close to natural viticulture as possible and the same goes for the wine making.  No added anything here, not even my least favorite friend, Sulfur Dioxide.  I have tasted both the reds and the whites of Overnoy and I have to say they are amongst my favorite wines… of all time, placing comfortably in my top 9 list (coming soon!) of all time favorites.
For many years, the only wines of the Jura I had tasted had been those of Tissot. Although the wines of Tissot are good, they don't approach the quality of Overnoy's wines in my opinion. Tissot's wines can seem a bit "dirty" by comparison (again, my opinion).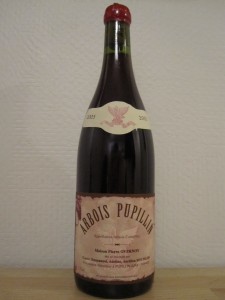 Date tasted:  Sunday February 21, 2010 18:45 (6:45pm) – Decanted

WOW!!!!
and…… 1 hour and 15 minutes later @ 20:00 (8pm)
HUH???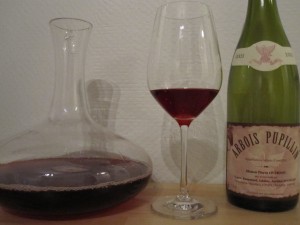 When I first opened this wine – it was exactly as I remembered it and expected it to be. A gorgeous, light red color not unlike what fresh squeezed raspberries or cranberries might look like. In fact, the similarities don't stop here. The nose was of pure, fresh raspberries and cranberries with delicate spices.  Background aromas of cherries, stems and pits.  It had that typical "sponty" (spontaneous) nose and  was slightly volatile , in that way that we natural wine lovers really appreciate, helping those aromas float up to our noses.  Slight animal and mineral tones also noted on the very back. The same was found on the palate.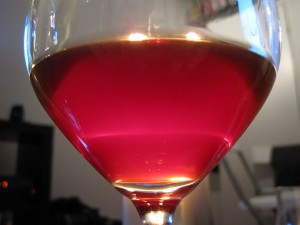 This wine was very alive and it was making me jump out of my chair with every smell and with every taste.
BUT, within a little over an hour, my friend and I were looking at each other and asking "huh??". What the hell happened! The wine was almost completely dead.  I don't normally decant a wine like this. So why the hell did I do it tonight? Was that the problem? First of all, I will never decant this wine again, just in case. Second, I will continue to drink the wines of Overnoy because they are so incredibly seductive. Finally, in the future I won't take an hour to drink a bottle of Overnoy again!  Oh, I should mention that I had only brought the wine back with me from France two weeks prior – travel sickness??
Cheers!