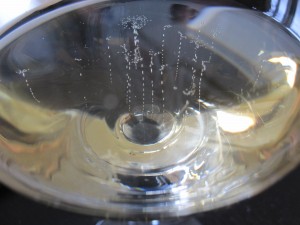 Champagne Fleury S.A.
43 Grande Rue
10250 Courteron – France
tel:  (+33) 03.25.38.20.28
The Fleury family used to grow grapes to sell to other Champagne houses.  They stopped doing this in 1929 due to the financial crisis and produced their first vintage that year.  In 1989 they converted to Biodynamic viticulture – the first house in Champagne to do so – the first plot to convert being a small 3ha plot.  They were officially certified in 1992 and they had their first certified biodynamic vintage in 1995.  Today, they own about 15ha and purchase another 12ha of biodynamically farmed grapes. They have an annual production of approx 200,000 bottles.
I was lucky enough to meet Jean-Sébastien Fleury at the Bio Millésime fair in Montpellier earlier this year (thanks Alice Feiring!). And by lucky I do mean lucky. I rarely get excited about Champagne anymore. Even though the king of sparkling wines can still make me smile from time to time, I rarely find myself  smiling from ear to ear.  His wines are just amazing. I smiled from ear to ear from the very first sip of the absolutely fantastic 1992 all the way to the his BdN that had been bottled without the addition of any SO2. I was so impressed in fact that I set up a meeting to go visit him and his Champagne house the next week.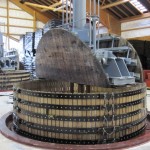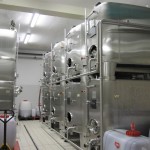 We arrived at the Fleury house around 9 on a cold Friday morning in February. We were greeted by  Jean-Sébastien who promptly took us on a tour of the winery and gave us a quick history of his (family's) estate. We got to see his rosé's still resting on it's lees, his press and the cellar where all the wines waiting to be disgorged were "maturing".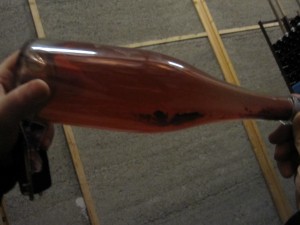 After this tour and introduction to the estate, he proceeded to disgorge some wines for us that were resting at a downward angle in a brine solution so that they were ready to be disgorged (for our pleasure & sans dosage of course!). Here's a list and quick description of what he disgorged for us: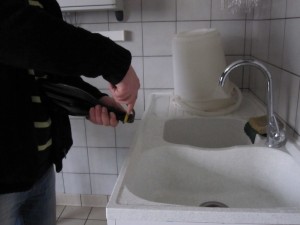 1988 – 100% Pinot Noir "Young & Energetic"
1990 – 100% Pinot Noir (under crown-cap) – "Fresh and rich"
1990 – 100% Pinot Noir – Biodynamic (under cork) – "more 'complex' than the crown cap '90. What a difference!"
1992 – 100% Pinot Noir – Biodynamic & "Stunning!!"
2008 – Sans Soufre – experimental. "WOW!!!"
Date Tasted: April 25, 2010 17:05 (5:05pm)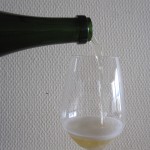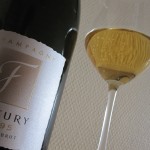 Appearance: Medium golden yellow with slight development visible. very delicate mouse flowing in 9 or 10 streams emanating from the center of the glass.
Nose: Nice ripe yellow apples and nice autolysis, with loads of freshness. Yellow biscuits, ripe, healthy fruit with slightly wild aromas. Development also on the nose. Overall, A beautiful nose and bouquet.
Palate: Very, very dry, with no or very little residual sugar. Delicate mousse helping to disperse the wine in the mouth. Coats the mouth very well with lemons, sour yellow apples and a long, autolytic finish with great balanced acidity and hints of mineral and yeast. Finish is ongoing and changing with the notes of yeast and biscuits really coming through about 15 seconds after swallowing. Very impressive acidity and freshness. Juicy, yummy and very drinkable (in my opinion, storable for up to 5-7 more years – depending on your palate)
17:30 (5:30pm)
Aromas of marzipan starting to emerge now. On the palate, the acidity settling a bit (temperature), becoming rounder and more delicate. A stunner…
This is definitely a Champagne for those who like them dry and acidic, and with the yummy ripe fruit, not unbalanced in the slightest.  A seemingly never-ending finish..wow