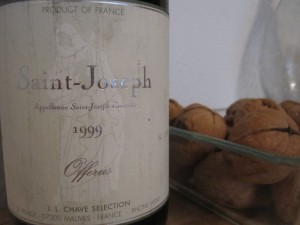 This wine is from the négociant business of Jean-Louis Chave, considered by many to be the top Hermitage producer.  The Saint-Joseph is called "Offerus" and the Côtes du Rhône "Mon Coeur".  We are quite lucky in Norway to also receive small quantities of red Crozes-Hermitage thanks to the importer Christopher Moestue who's an old friend and harvester.  There can be up to 9 suppliers of grapes for the "Offerus", with each of the wines vinified separately in each grower's cellar.  The wine is stored in 3-6 year old casks for 12-14 months. Only 50,000 bottles are made.  Oh yeah, and of course this is 100% (mature) Syrah  🙂   12.5% Alcohol
Date tasted: June 02, 2010 21:12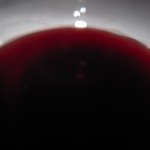 Appearance: Quite dark red still with surprisingly little development showing. The wine looks young for its age 😉
Nose: Developed bouquet of pencil lead, black berries, raspberries, dark morel cherries with hints of bay leaf & black olives. No pepper aromas now.
Palate: Also showing development on the palate with black olives noted first with a very sour red fruit backbone.   High acidity with medium tannins with a slightly oaky finish.
First impression suggests that the wine was lacking forward fruit and may have been past its prime. But read on!!

At 21:41 decanted the wine: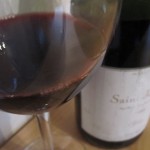 Nose: smoke & hints of white pepper emerging
Palate: A bit more sweet fruit on the front now, but fading quickly giving way to under-ripe sour red fruit & spices.  The finish is drying out a bit (not more necessarily tannic).
21:45 switched to a smaller format glass with smaller opening (more tulip shaped)
Nose: much tighter and focused now, yet less open. Cranberries.
Palate: tried the wine with some fresh walnuts and that really helped bring out the fruit!
22:02 – Yes, we still had some wine left! As the wine started to open, it became more difficult to not consume this bottle quickly!
The walnuts and the wine are a success – very enjoyable combo. They really helped bring out the sweet fruit in the wine (as did time).
Nose: More herbs
Palate: Still getting sweeter and the fruit is really opening up and beginning to shine! Alas, the wine is still alive and very very enjoyable!
The development nosed when the bottle was first opened, is not so apparent now as the fruit begins to shine. The wine actually seemed to be getting younger as time passed.
At this point, we really wished that this was a magnum cause it really began to drink well and we wanted more!  If you have any bottles of the 1999, I would drink up because I don't feel that the wine will benefit from any further cellaring.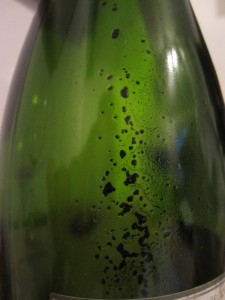 What are we listening to as we consume this wine??  SYME! A band out of Bergen, Norway. Give them a listen to!