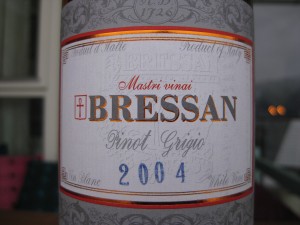 Soil composition: Calcareous mineral base, cost with high presence of iron sesquioxides. Such geological characteristics, clinic associated with this scarce endowment of organic and other nutritional elements, search forces the vines to a slow vegetative growth, resulting in an extremely low production, with an overall benefit to the MACRO and MICRO components of the grapes, and therefore the wines.
Total surface area:  1.41 HA
Planting year:  1990
# of vines/HA:  4630
Sun exposition:  Southern, with rows oriented NORTHWEST-SOUTH
Harvest:  Physiologically correct, by hand
Wine making: Grapes are de-stalked and soft-pressed, with cold decanting of the must and the total elimination of the entire part decanted.  20-25 days cold fermentation. Subsequent slow fermentation of the fine lees in stainless steel tanks; then aging for 12-15 months before bottling.  Bottles are placed in groups of 500 in large chests that are then stored in temperature controlled warehouses for additional aging.
Alcohol content:  13%
Total acidity:  5.20 g/l
Date tasted:  Saturday December 26th, 2009 12:02 (PM)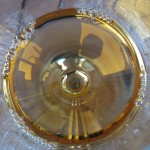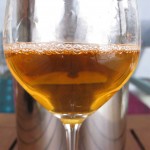 Appearance: "Ramato" – Copper-like color, but perhaps a bit lighter than the Verduzzo Fruilano with a tad more brownish tinge.  Medium plus intense glow.
Nose: Less intense than the Verduzzo Fruilano and more "feminine". Fresh apricots and orange peel. Hints of star anise and mineral. Medium complex
Palate: Medium intense wine with orange citrus, hints of apricot, star anise and mineral.  Well-integrated alcohol, very fresh and drinkable. Very mild tannins, medium plus acidity with a long, mineral, fresh finish. One of the best Pinot Grigio's I have ever tasted, if not the best.
Drinking very well now, but can be stored up to 5 years in my opinion. Another winner from Bressan…