The next time you find yourself at the supermarket and stumble across a beautiful bunch of carrots with the green leafy tops still attached, don't just walk by, buy them!  Then when you get home, remove the green tops from the carrots and don't through them away! You can wash them thoroughly and use them.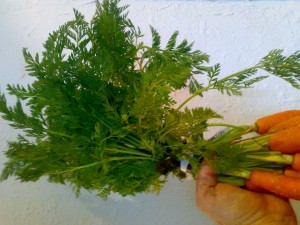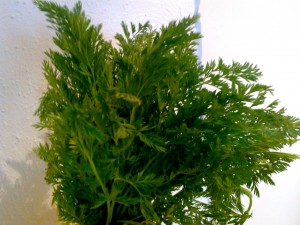 Carrot tops are very nutritious! They are an outstanding source of Chlorophyll, the green pigment that studies have shown to combat the growth of tumors. Cholorphyll also contains cleansing properties that purify the blood, lymph nodes, and adrenal glands. They are also rich in protein, minerals and vitamins.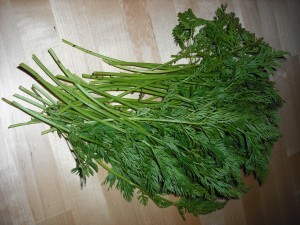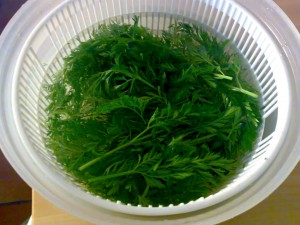 Carrot greens are antiseptic, so they have been added to mouthwashes and, mixed with honey, to disinfect sores. They are also diuretic (increas urine flow), and can help treat kidney disease and edema. They are also loaded with potassium which can make them bitter (which can be adjusted by the use of acidity – like balsamic vinegar).  Thank you Yahoo! Answers and JenasaurusX for all the great info!
So, once you have removed the tops, place them in a salad spinner and rinse them very well. Then spin dry! Next, place them in a food processor or blender with some garlic (you add as much as you like, I usually add less), extra virgin olive oil and a bit of balsamic vinegar which provides the acidity to reduce the bitterness. Blend until the desired consistency is achieved: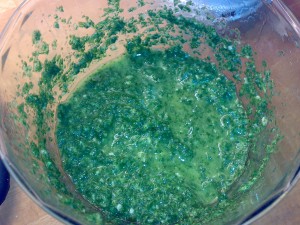 Now you can place the finished carrot top pesto in a glass jar and place in the refrigerator. This can be maintained for some time without a problem. You can use this pesto as you normally would: on pasta, on fish, on salads, etc!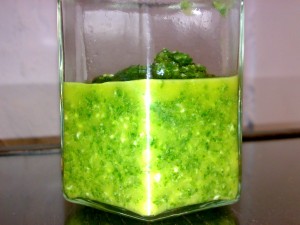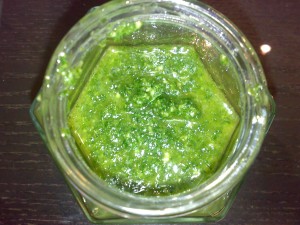 What wine to drink with this? Well, due to the fact that this carrot top pesto is very green, slightly spicy and with a touch of bitterness, I would suggest a Sauvignon Blanc or Grüner Veltliner.
Enjoy!!