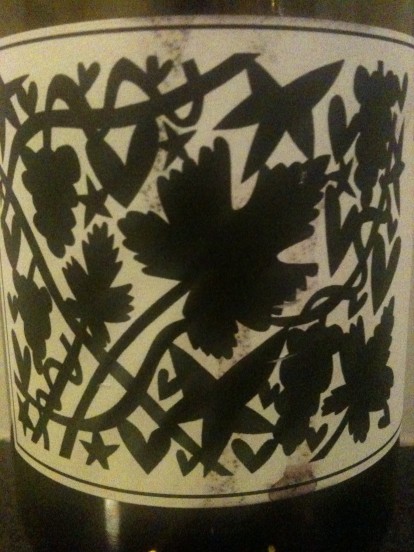 Believe it or not, when I tell people that I'm from California I feel embarrassed. Especially when people  know i focus on natural, and California wines are often far from that.  And I have always found that odd, especially when I was wolfing down organic food way before the rest of the world. For as far back as i can remember we (I) have been eating organic food in California, and i do mean as far back as i can remember, and i am pretty damn mature.
So, why in my opinion has California dropped the ball when it comes to wine? I don't think i want to answer that, but I hear the sounds of coins clattering in the background.  But things are changing, no pun intended. How do i know this? Well for one, i have been found drinking a California wine or two lately , and i avoided them like the plague when i lived there.  And of course we are known to write about this topic these days, and a great movie highlights the natural wine movement in California, Wine From Here.
Catching me drinking a wine from California is still a rare occurrence, but of course where I live doesn't help the situation any. I posted pictures a few years ago of Donkey and Goat's wines and now i will do the same for Hank Beckmeyer's La Clarine Farm.  I have been reading, as many of you have, about him and his wines more and more often. They are impossible for me to get a hold of in Poland or Norway, but thanks to Hank's emails and  a California shipping address, I have been fortunate enough to get 3 bottles each of his 2009 and 2010 Home Vineyard bottling's.
Hank runs his farm in Somerset, in the Sierra-Nevada foothills in California, resting up at around 600-700 meters over sea level. I don't at what elevation Hank's vineyards grow, but i am sure he will chime in with a response. Somerset? Surely you mean Sonoma right? Nope . Hank and his goats make some damn good wine in Somerset. Rather,  Hank works extremely hard to help nature make her wine. I am not going to go on and on about how Hank does this, if you want to read it from his own words, you can do so here
I have tasted his wines only 2 times. Yes, only twice. I bought six bottles and I have to admit I gave one (2010) away as a wedding gift to close friends of ours because they were worth it. I gave a second bottle (2009) away to Maxime  at the Green Man and French Horn in London (one of the restaurants in the Brawn, Terroir, Soif group) cause I knew he would understand it. That left me with 4.  I drank two, one of which was consumed two days ago and I can tell you that it was the fastest disappearing bottle of the evening and there was even a bottle of La Stoppa among the bunch.
The wine was everything that I really hoped for, and i mean really hoped for. After all, I had guests, they knew I was from California, and most of all, they knew that I really only drank natural wine. The wine stood up to test and was just as refreshing as I had hoped. Fresh fruit, ripe tannins and refreshing acidity. No silky, velvety mouth feel, no warm alcohol and thank god no vanilla! Glog glog wine from California, finally!
All I can say is "California, keep doing what you are doing. You've come a long way"