Date tasted: 28th February, 2009
Last night I had the great opportunity to taste an unusual wine. A wine that I had personally purchased for the wine list of the wine bar I used to manage. I remember buying 4 bottles of this wine around 3 years ago after discovering how unusual it was. It was a great opportunity that I couldn't pass up!
The Robert Chevillon Domaine farms around 13HA, most of which are in Nuits-Saint-Georges. The vineyards include 8 Premier Crus. Most of his vines are 25-40 years old, and some are almost 80 years old.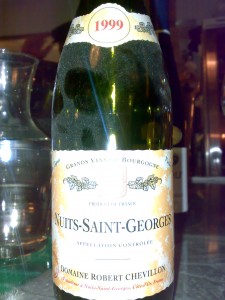 Robert makes around 1,000 bottles of this rare Nuits-Saint-Georges Vieilles Vignes Blanc, the subject of this tasting. The wine is made from  a mutated white Pinot Noir grape known locally as 'pinot gouges'.  Here's a brief paragraph borrowed from The Burgundy Report:
"Pinot & Mutation – Growers have known for generations that planting the same stock (clone) in different vineyards often ends up with vines that are somehow different, we're not talking about micro-climate specifics such as ripening and how vigorous the vines might be, but also about the shape and growing habits of the vines. The growers feel that the vine somehow adapts itself to the location. There is also a more spontaneous change that can happen, just one branch of a vine may suddenly produce only 'white' grapes. This mutation is believed to have been the source of pinot blanc and pinot beurot (gris): A perfect example of this was the similar mutation of vine in Nuits St.Georges in the 1930's from which cuttings were separated and planted in their own right. These white grapes are now known locally as 'pinot gouges', after the domain that found, planted and still exploits them – other sources call it pinot musigny. From a DNA perspective, beurot, blanc and gouges are to all intents and purposes the same as pinot noir."
The first two bottles seemed to be corked (unfortunately), but the third seemed just fine. The wine was decanted immediately and consumed at around 14-15 degrees Celsius (57-60 Fahrenheit). This is a perfect temperature to begin consuming most white wine, not at the 8-10 (48-50 Fahrenheit) degrees most people drink their white wine!  In fact, the wine only improved as it warmed, as do many white wines and Champagnes.
Here are my tasting notes:
The color was quite a dark golden yellow with maturity evident.
The nose initially reminded me of some of the wines I had experienced from the Jura. In other words, immediately evident were aromas of oak and what reminded me of yeast or flor. It was rather difficult at this point to pickup on the fruit. Now I know that there have been issues with the premature oxidation of (white) Burgundies in the mid to late 90's and perhaps this was another example of a Burgundy with premature oxidation, but that aroma that I can only describe as flor seemed to burn off a bit after some time in the glass so perhaps this is the way the wine was supposed to be.
The wine's aroma was not not very complex initially, but eventually the aromas of flor and oak gave way to red apples, like one might find in a Blanc de Noirs from the Champagne region, and hints of orange peel and citrus. There were also mineral hints laying in the background. That smell of flor never fully subsided, but did soften over time.
On the palate, the wine was very concentrated and mineral with yellow apples, not red as was present on the nose. Medium weight with very good acidity for a wine of this age. I would rate the acidity at medium plus. The wine reminded me a bit of a Chardonnay, but with less weight and not as oily or fat. At first the 13% alcohol was quite evident, but began to integrate itself about 30 minutes after the bottle was decanted. The finish was very long at around 30-40 seconds.
My overall impression was that this was most likely a good bottle and was displaying the characteristics that it should. The wine was well made and could have even been stored for another 4-7 years in my opinion. To sum up, this was an interesting wine to taste, but not one that will keep me up at night thinking as many red Burgundies do.
If you have had the opportunity to taste this wine or a similar wine, it would be interesting to hear your feedback.