So I don't update as often as I should (whatever that means). So, since I spontaneously write, as it should be, I decided to do a "live" tasting note.. That is, I am writing this as I taste the wine.. This opens me up to some critique perhaps?
Anyway, the goal here is few words, less education, and just to post
I got this wine from Pierre at La Verre Volé (Paris) the last time he was here in Bergen. I decided to crack the bottle tonight cause I felt like it and I thought it would be nice with this (wild soul on a bed of organic capers from the island of Pantelleria, fennel and potatoes..and a few other things):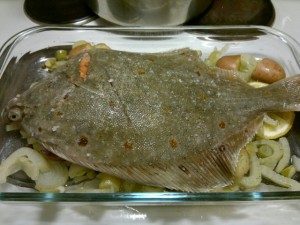 Here are my quick tasting notes just to make it official: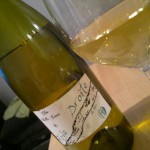 Appearance: golden yellow – see photo
Nose: Medium intense, youthful and rich nose. When I nose this sort of wine, I feel right away that it is an organic/biodynamic wine with spontaneous fermentation (ok, Pierre gave this to me, so what else could it be?!) There is something about the expression of the wine that signals this for me right away. Hints of lees and yellow fruit, citrus and yellow stone fruit with a mineral lift giving the wine a fresh edge. Hints of alcohol on the nose. Jumps out of the glass at first.. I love wines that are alive!
Palate: A rather rich, dry palate with good acidity and a slightly bitter/mineral finish. Sits well long after swallowing. Again yellow fruit. Yellow berries and ripe citrus fruits. Hints of passion fruit? Nice food wine, not necessarily vin de soif. Well balanced. Well intrigated alcohol overall with just a hint of warmth at the end and at the back of the throat.
After just 15 minutes open the wine is tightening and becoming more citrusy and mineral on the nose and palate. The sweet, very ripe fruit I first nosed is burning off – and that's good for me
I get sort of a Chenin Blanc feel with the wine even before researching what the hell it was I was drinking..
Ok. doing a bit of reasearch right.. At least I got the terroir correct (Loire). Wrong grape though, Chardonnay.
Be right back, gotta pop that fish in the oven!
Ok, here I am… So, I guessed chenin blanc. not sure why, just felt like it. But, apparently, it's a whacky Chardonnay.  Oh well.. follow these links if you want to read more about this small bio producer from a small northern appellation in the Loire just outside of Orléans.
Ok, the wine has been open for half hour now… vin de soif!! Et voilà!
This must be the fastest post I have written…. until next time, drink wine that you like.