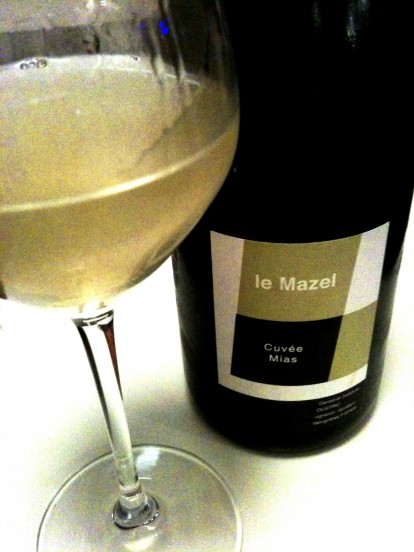 This is not the first time I write about Le Mazel. The Cuvée Raoul (2006) was one of the most interesting wines I have tasted. And I wasn't the only one who believed this. The wine was introduced to the Norwegian market with such rave reviews that the importers could not keep up with the demand.
The Mias vin de table  is a sparkling (pétillant) wine which never made into the Norwegian market, but lucky for me my friends payed a visit to Le Mazel this summer while celebrating their honeymoon and bought back with them a few bottles. Spontaneously fermented viognier grapes, most likely bottled before fermentation was complete and without additives, this funky-labeled wine was worth a quick write-up
Date tasted: Monday, September 3rd, 2012
Appearance:  A light and cloudy wine with tiny bubbles.
Nose:  smoke, yellow apples and volatile aromas highlight this wine. Hints of lemon and other yellow fruits. Green grapes. Minerality. Overripe (fermenting) pears. Pear cider.
Palate:  a very slight sparkle. Impression of sugar but not sweet. Refreshing ripe acidity. Yellow apples, pears and almond paste. Volatility give this wine a sweet, slightly balsamic aftertaste (without the sourness). Yummy! Like a grape cider – which of course is all this really is. Yeasty notes. Very Slightly oxidized, but a healthy oxidation, like a pear that falls to the ground.  14% alcohol (also probably contributing to the impression of sweetness)