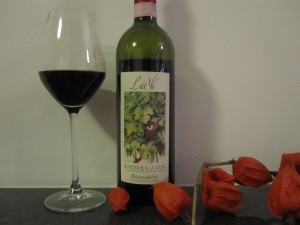 Although the single vineyard Lia Ví 2010, (made without the addition of sulfur for the first time), is available now & super delicious, I decided to retaste the 2009 and provide you with a quick note.
November 10th, 20:38 -HAPPY BIRTHDAY MOM!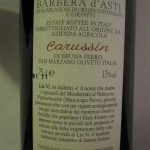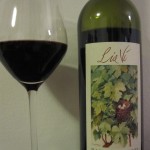 Appearance:  no development showing on this still young wine. A dark-ish garnet-red with bluish reflections.
Nose: Pure Barbera. Frutti di bosco (wild berries – mostly black, but some hints of red), hints of forest floor and black truffle.  Floral, mostly purple
Palate:  Great fruit attack with a minerality that gives the wine the feeling that it's lightly sparkling, which it is not. Medium ripe acidity lending to the wine's  juiciness, the juiciness you might get if you put a handful full of super ripe berries in your mouth.  Smooth, feminine tannins, just enough to make you reach for that semi-mature toma-Piemontese.  A slightly bitter,  semi-long finish.
I have stated before that I felt that Carussin creates bench-mark Barbera's that everybody should be envious of. Not only the finished wine, but the grapes on the vine. This wine is alive and fun to drink.  A wine that can complement all parts of the meal, even white fish without pretentions. Enjoy…