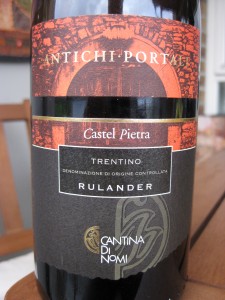 Date tasted:  May 5th, 2009
Cantina di Nomi is a cooperative situated in the heart of the Vallagarina, between Trentino and Rovereto in the far North in Italy.  The cantina was formed in 1957 by a group of farmers and, according to the website, the almost 200 hectares are harvested by hand.
This wine is part of the Antichi Portali line and is made with the Rulander grape, also known as Pinot Grigio. The grapes for this wine are harvested by hand and come from a single vineyard called Castel Pietra.  Once harvested and crushed, the skins are macerated with the must for 18-24 hours at a temperature of between 6-8°C (43-46.5°F).  The wine is aged for a short period in stainless steel.
Appearance: A very light bronze/rusty color. Medium intensity with good clarity, most likely this wine has been filtered.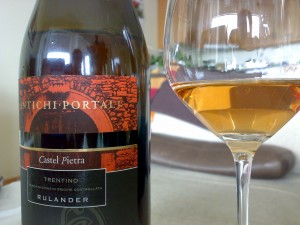 Nose: Not very floral nor fruity.  Under ripe lemons.  Light aromas of gooseberry, with slight green notes (some similar aromas to Sauvignon Blanc, but less intense and green).  Hints of under ripe melon.  Not a terribly intense nor complex wine.
Palate: Very dry, medium acidity.  Dry orange peel.  A bit steely and saline.  Crisp with a medium long finish.  Medium alcohol.  Very slight oxidaton on the palate.
I tried the wine again the next day and there was no evolution.
Overall this wine was OK, but not great.   I expected greater complexity due to the skin contact, but the short time on the skins didn't add much to the wine. It is quite a typical Pinot Grigio.
It's suitable for an aperitif or just to refresh yourself on a hot day.