Although up to now I have only tasted the wines of Laureano Serres a dozen times (at most), his now extinct Vinyes Arrencades Blanc 2008 was in my top 9 favorite wines list that I published two years ago. It was a wine Laureano made only 500 bottles of from an almost 100 year-old Macabeo vineyard. Unfortunately, he no longer makes this wine because the vines were attacked by mildew rendering the vine's ability to photosynthesize all but destroyed. We were lucky to receive 24 bottles at Jacob's. The wine was a cloudy yellow with deep fruit and minerals, and with every sip, evolving (I have one bottle left in my cellar which will give birth to a full tasting note sometime in the future).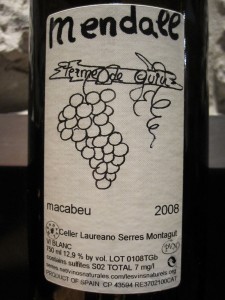 That was the only wine I had as a reference to the wines of Laureano. You can imagine my anticipation when I sent a friend to go visit him and she came home with a bottle of his 2008 Blanc Terme de Guiu for me! I waited almost a year, and finally cracked the bottle. On Laureano's website, he gives very detailed information about his wines, but I neglected to read it. I sometimes prefer to taste something before knowing too much about it. So, you can imagine my surprise when i pulled the cork and started to pour. Orange! Now, i didn't expect that! My anticipation level just shot through the roof, I must admit.
Here is some nerdy stuff about the wine:
The grapes come from Terme de Guiu, a small rural property (finca) located in Vilalba dels Arcs (Terra Alta) municipality in Tarragona (Catalunya). The vines are approximately 25 years of age.
The south-southeast facing vineyard is cultivated traditionally and naturally. The soil is Clayey-calcareous.
Grape mix is approximately 94% Macabeo 5% Granacha blanca & 1% Colombard. Yield is approximately 45 hl/ha (2.7 kg/vine). 'The wine is vinified in inox (steel) in an oxidative style (not reductive). 1000 bottles produced.
And more details:
Vineyard naturally grown without chemical fertilizers. Sulfur treatments.
Harvested by hand. Maceration with the skins for 2 nights (Vaslin horizontal press), fermentation with its own yeast for about 14 days, rests in stainless steel without racking in 2009. During this whole process, no outside yeast has been used nor have sulfites been added for conservation, or any other product. Just grapes. (this alone does not make a great wine, but it is important in my opinion to produce a great wine).
Analysis:
Alcohol 13.5%
Total Acid 5.0 g/l
Volatile Acid 0.55 g/l
Total sulfur 7 mg/l
Ok.. on to the good stuff
Date tasted: February 6th, 2012 17:15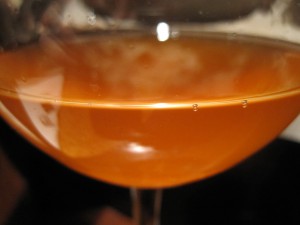 Appearance: as i mentioned, i expected a cloudy yellow wine, and in fact it was pumpkin-colored and cloudy 🙂 see photos.
Nose: pumpkin (with spices, not vegetal), hay, fennel with hints of mineral. No oak. thank you.
Palate: Deep deep deep. Refreshing. Great acid. Alcohol is refreshing. Pumpkin (not vegetal, rather aromatic like pumpkin pie). Hay. Fennel on the finish. Structured and deep. Serious yet feminine tannins. Looooong
The best way to sum this wine up is that there is no interference in the wine. No sticky edges. No stinging acid or alcohol. Tannic, but not too. Nothing prevents this wine from going doing easily, except that the bottle was emptied quite rapidly. Absolutely fresh and drinkable. Not to be mistaken for thin. This wine is not thin, rather it is perfectly balanced and it left us wishing we had more. This wine had perfectly juicy, ripe acidity which I am starting to realize is one of the most important factors rendering a wine drinkable, refreshing and delicious. Ripe acidity is perhaps also one of the hardest wine components to get right I have noticed.