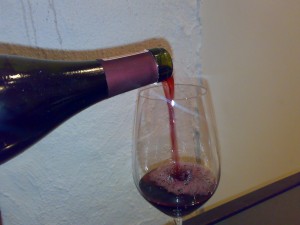 Date Tasted:  16th March, 2009
Scholars are fairly convinced of the link between part of  Turkey and the earliest growing of the cultivated vine used for wine making, Vitis vinifera.
Today, the vineyards of Turkey cover about 650,000 ha (1,605,500 acres) making  them the 5th largest in the world.  Only 2% – 3% of the average annual crop from these vineyards is made into wine while about 20% is used for producing raisins.  It has been estimated that between 500 and 1,000 grape varieties are grown in Turkey, although only about 60 of these are used to make wine.
This wine comes from the Southeastern Anatolia region of Turkey. Archeological finds show that vines were cultivated in Anatolia as early as 4000 B.C. This region has Turkey's largest area of vineyards, but it is ranked 4th in the production of wine.
The Doluca winery is one of the better known wine producers in Turkey. It was established in the 1920's by Nihat Kutman after completing his education at the very reputable Geisenheim Wine Institute's programme in Enology and Viticulture.
This was their Special Reserve (Kav) wine made with the grape varieties Bogazkere and Öküzgözü. It was stored in french oak barriques for 12 months.
Please note that this was my first time tasting a Turkish wine and had no clue what to look for or what to expect.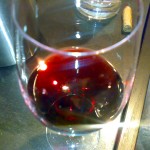 Appearance: Quite an intense, glowing light red color. About as light a red as you might expect from the Pinot Noir grape – see through. But with a more intense glow.  Very very slight browning around the edges, matching what I would expect from a wine of this age.
Nose: The first aromas that emerged were those of spices. In particular Cinnamon, cardamon and clove. There were hints of oak, but at this time, they weren't dominant.  Slight smokey hints, blackberries, cherries and some interesting aromas that I can only compare to the smell you get when you carve a pumpkin and scoop out the seeds. Very interesting indeed.
Palate: Quite spicy. The same sorts of spices that were evident on the nose were now showing themselves on the palate. Sour cherries.
This wine had a good general mouth feel, well-balanced acidity and a good finish with a very slight bitterness. Tannins were mild and my opinion were most likely coming from the oak that the wine had been stored in and not from the fruit itself. The alcohol was also very well integrated.
After the wine had been opened a half hour or so, the fruit began to soften and the oak dominate. At a certain point, I actually stopped drinking it. I put what was left of the wine in the refrigerator overnight. To my surprise, the next night the wine was again drinking very well, the fruit again showing its sour cherry self and the oak no longer dominant.
An interesting wine – I was pleasantly surprised.
I would love to have the opportunity to try other Turkish wines.