THE SAKE:
Terada Honke Daigo No Shizuku Junmai Bodaimoto Katori, Chiba – Japan 14.8% Alcohol
A brief description of this sake is necessary here. This sake is made by Terada Honke according to ancient methods (bodaimoto). Everything is done by hand. Ordinary table rice (Koshihikari) is used to make this sake, not sake rice. While most rice used to make sake is first polished to remove 30-50% (sometimes more) of the grain, Terada only removes 8-10%!  I am told my a number of reliable sources that he me also be the only Toji (sake brewer – yes, sake is brewed) who doesn't add a man-made yeast called Koji. This means he may be the only Toji to make sake spontaneously.  It's an all natural sake – it's an all natural method. You could in theory do this at home, and this is why for many years, the Japanese government forbade this method of production. this sake has not been diluted or pasteurized and for this needs to be stored at the cold temperature of 4-5°C.
The sake is cloudy and has a yellow hue, much like lemonade.  the smell explodes out of the glass. Lemons and rice are the dominant aromas. When I first tasted this sake, I was reminded of the time I first tasted Frank Cornelissen's Rosso del Contadino about 6 years ago.  Not because this sake tasted or reminded me of the wine, but because when the sake hit my mouth, I had a revelation.  After more than 20 years drinking sake, I felt that for the first time I truly understood sake.  It was slightly sparkling, like some natural wines when they first hit the glass. These bubbles soon disappeared. What struck me most about this sake apart from the intense mouth feel, is the balance between a subtle sweetness and an amazing acidic structure which gave this sake a certain freshness I had not experienced in any sake before. And of course, a slight "wild" edge and funkiness that so many natural wines have.  wow!  I am sold. (apologies for the lack of picture of the sake on it's own – I some how deleted a bunch of photo's from my phone before I was able to download them. If you click on the photo, you should get a larger version. To the left of the bottle you will spot a glimpse of this sake in a glass)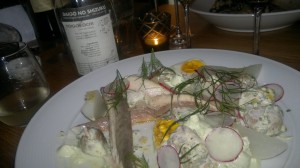 THE FOOD:
Fresh mackerel egg, radish, pickled turnip, herring roe dill cream and potato salad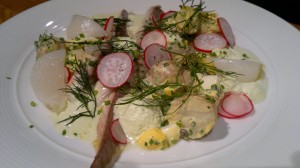 This was the first time i used a sake in a food pairing. What?! Comon' now, we are not in California! We are in Bergen, an overall very conservative city in a conservative (not in every way) country. In fact, it wasn't until around 6-9 months ago that some interesting sake's were imported into Norway; for the first time.
The sweetness in the sake contrasted beautifully with the pickled turnips and the overall structure and strength of the sake worked well with this oily fish. An interesting combination of flavors freshened up by this acidic sake. Yum