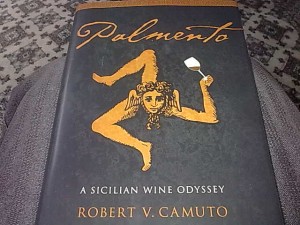 Robert Camuto's Palmento is a  journey through Sicily that describes the landscape, people, lifestyle, personality, generosity, cuisine and even the mafia of Sicily all between two hard covers. Oh, and did I mention that the book is also about wine?
For me reading Palmento was like watching the movie Sideways. An entertaining book about wine and at the same time, not only about wine. Sideways was fun to watch if you weren't into wine, just like the book is entertaining to read weather you're into wine or not. Follow Robert through his Sicilian adventures and misadventures making you eager to want to to see how it ends and at the same time, you just don't want it to.
If you're like me and are passionate about wine, then you might know that the book's title Palmento, refers to «traditional stone wineries with massive wood lever presses» that were used in wine making in Sicily generations ago, and can still be seen strewn around Sicily like old abandoned bicycles in Amsterdam. For those of us not familiar with the Palmenti, and don't care, then the title simply sounds like an Italian name for something charming, and indeed the book is just that, charming.
If you're into wine, then you should read this book. It has enough wine information about some of the most interesting wine makers in Sicily to keep your attention. The book welcomes you into their homes, lives and wine making techniques. This book is also for those of you that like to travel, and actually feel like you are doing so through the eyes of the author. But be warned, you will often find yourself salivating as if you were the one actually traveling and eating your way through Sicily.
If you like my revue, then you will like the book because I don't write nearly as well as Roberto Camuto does.  A must read…. for everyone. I couldn't put it down.