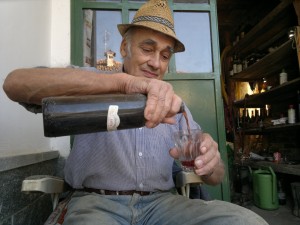 Have you ever have one of those tasting experiences that leaves you feeling light, energetic, happy & humbled?  We were just in Piemonte harvesting grapes for our third vintage of our Felice wine. A wine we  first made in 2009 from healthy nebbiolo grapes without any additions during the wine making process or bottling.
After our harvest, we come back to the Felice homestead to return his crates, the ones we used to gather our grapes in.  As we get set to leave, Felice comes towards us with a bottle of the last vintage of his nebbiolo that he was to make, a 2006.  We sit down to taste, then drink. We are stunned, but not surprised, by the pureness of his unlabeled wine.  We ask him questions, he responds modestly.
"How do you make your wine?"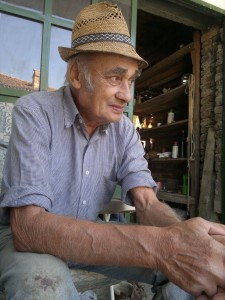 "I just pick the grapes and let it make itself."
"What about sulfur?"
"Why should I use sulfur? My grapes are healthy. I never add sulfur when I make my wine."
Then he goes back into his "cellar", an outdoor barn/wine making facility.  A structure that at this late date in September was a quite warm 25 degrees or so.  He comes back with a bottle of his 1979 vintage, and it goes a bit like this:
"The year is 1979, the vineyards are in Barbaresco and the grapes are healthy. Felice Grasso goes out to harvest his nebbiolo grapes, something he has been doing for more than 20 years already. The grapes are brought down the steep hill into his very modest wine making facility, an outdoor barn like structure exposed to fluctuating temperatures between the seasons.  He destems, crushes lightly and lets his grapes ferment on their own, like he has always done, like his father did before him, and like he will continue to do up to that last vintage, 2006. He adds nothing, and why should he? "My grapes are healthy"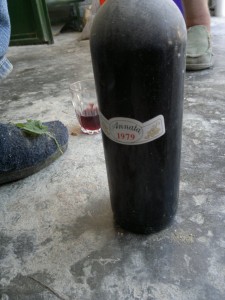 Back to 2011. It's been about 30 years since he bottled that 1979.
Felice doesn't add anything to his grapes. At all.
Felice doesn't store his wines "properly"
Felice doesn't label his wines for sale
Felice doesn't drink other peoples wines
What Felice does is make great wine. Honest wine. Transparent wine. A wine that after 30 years of standing alongside other bottles and being subjected to sunlight and varying temperatures, was supreme. Yes we were in Piemonte. Yes it was a beautiful day. Yes we were drinking a 30 year old wine. And still, the wine was supreme.
You said it wasn't possible. Well it was, it is and it will be.