Sunday October 4th, 2009
Sunday was another quiet day – Cleaned the destemmer and prepared for tomorrow's second harvest.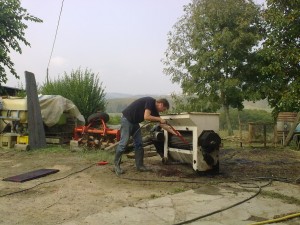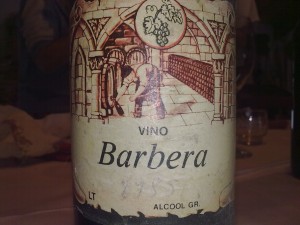 Lunch at Carussin where we drank another wine made by Igino Garberoglio– a 1985 Barbera d'Asti bottled the year that his grandson Luca was born. If you are following these latest posts, you know that the wines of Igino are not labeled, but this was a special label he made for this bottle.  Most likely not stored in the best of conditions since it was in the dining area of the Carussin  house. This being said, it was still quite fresh,  acidic and full of life with slight oxidative notes – very drinkable indeed.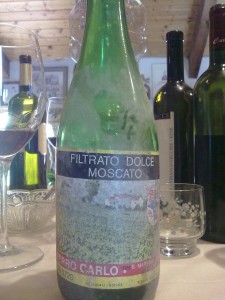 We also had the chance to taste a spontaneously fermented Moscato d'Asti from 1984 made by Bruna's uncle Carlo. Bottled in the then typical 720ml bottle (compared to today's 750ml wine bottle). Smelled of steel, oxidized honey and hints of caramelized lemon peel. Similar flavors were found on the mouth with still a slight sparkle left. A bit over the top, but interesting to taste none the less. This was stored in the Carussin cellar.
After lunch went back to check on our freshly fermenting wine and moistened the cap – the "protective" layer of grape skins that forms on top of the grape juice. As the juice begins to ferment, it expands and the cement tank which was about 80% to the top has now risen to about 95-98% full. As wine ferments, carbon dioxide is released.  To confirm the wine has begun fermenting in the early stages, one can light a candle or match and bring it down towards the fermenting grapes and it will burn out due to the lack of oxygen. Once the wine really begins to ferment there is no mistaking as the bubbling sound will be quite loud!
After moistening the cap, Igino pulled out another of his wines – a Brachetto vinfied dry and without bubbles!  Normally a Brachetto is a sweet sparkling wine that has about 5-6% alcohol by volume and is very enjoyable with fresh strawberries. This version was completely dry and had no bubbles. Very interesting indeed with the typical Brachetto aromas of wild strawberries and Campari but very dry and around 12% alcohol.
We then headed back over to Carussin's and cleaned the containers for the harvest of Basarin tomorrow morning.