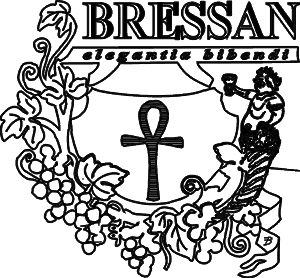 BRESSAN mastri vinai Via Conti Zoppini, 35 34070 FARRA D'ISONZO (Gorizia) Italy Tel. +39 – 0481 – 888131 Fax +39 – 0481 – 889824 E – mail: 
bressanwines@tin.it
www.bressanwines.com
www.bressanwines.it
I haven't done too many "producer profiles" so far, and I suppose that's because I really have to believe in the philosophy of the producer before I feel compelled to write about them. Then, I really have to like the wines. I may have a favorite bottle, but overall, I tend to enjoy all of the wines the producer makes. Usually the wines will have a certain signature that says they all belong to a certain family – in this case we're talking about the philosophy and wines of Mastri Vinai Bressan, and that signature is one of  passion and patience. Patience enough to release a wine that, although is certainly age worthy, is actually ready to drink upon release. And this is why I have selected to write about Bressan.
The Bressan family owns about 20 hectares in the Friuili-Venezia Giulia appellation in North-Eastern Italy on the border to Slovenia.  The first thing that struck me about this producer was of course the wines.  Indigenous varieties that one does not taste every day, such as the Schioppettino, Pignol and Verduzzo Friulano. The second thing that struck me was the vintage of some of these wines which went back as far as 1999 (the latest release of the Pignol, for instance). The third thing that struck me was the philosophy of this producer. A philosophy very much in line with what I feel a wine producer's philosophy should be. Read the rest of this entry »