Just got back from Zurich where I was cordially invited by Angiolino Maule of La Biancara. Not only does Maule make fantastic wines and value prices, he is also acting president of the VinNatur organization.   Day one was spent mostly attending a seminar with guest speakers such as Isabelle Legeron MW, Lydia & Claude Bourguignon, Federico Giotto, Terje Meling and Jonathan Nossiter (Mondovino). The day was interesting and long, but luckily concluded with an open tasting with 98 natural wine makers and their wines.
This is one of the reasons we attended the event, right?
All in all, there are not many tastings where so many amazing producers and wines can be found in one place. Overall the quality of the producers was high, especially in my opinion, the producers from Slovenia.  In any case, here is my quick rundown of the producers I felt showed promise, and were in my opinion the "ones to watch"
24-year old Davide Spillare from Gambellara, Italy (Veneto).  Worked under the guidance of Angiolino Maule, so it wasn't surprising that his wines were not only good, but showed real depth and freshness without being "over the top" or overripe.  His whites (which I actually preferred) where made with very little sulfur added and his red was made completely without.  His Garganega-based sparkling pasito Dolce Racrei (which I have sold for about a year now at Jacob's) is just delicious. Dried hay and fruit with a crisp acidic background and slightly smokey finish is perhaps one of the most interesting dessert wines I have tasted.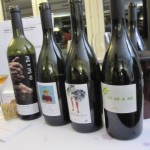 Next were the wines of Bodegas Bruno Ruiz (Toledo). These wines have been in Norway for a few  years now, but for every year they get better and better. The whites have a depth you don't often find at the super-value price levels they are at. More and more of their wines are being made without the addition of sulfur indicating that their fruit quality has to be fantastically healthy. And their labeling is improving, or rather becoming more fun to look at..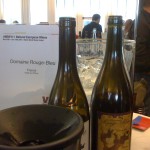 The wines of Jean-Marc Espinasse of Domaine Rouge-Bleu from the Southern Rhône showed amazing fruit quality and depth. Yes, alcohol levels where high here, but still remained fresh. We tasted a very-old Grenache wine that was just so deep and delicious. He also splashed me an experimental, unlabeled Nerello Mascaslese that he was making on Mt. Etna. This also showed real promise, but a tad too much on the oak for my palate. Oh, and nice labels as well. these are actually what got me to his table to begin with
Next were the wines of Marcial Dorado from Portugal.  I don't have any wines from Portugal on my wine list. Not because there isn't some quality wine in Portugal, but because I haven't found any wines that I really like and that have the philosophy I search for in a wine producer. These wines were not only being made naturally, but again showed that real quality of fruit I expect in a wine, a living wine. Super-juicy, drinkable, low alcohol, deep and no oak. No oak in a wine is hard enough to find, but in Spain and Portugal even harder. The Alvarinho-based whites were especially interesting to me.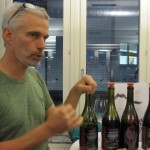 For me the highlight of the event was of course the wines of Frank Cornelissen whose wines never stop impressing me for their expressiveness. So deep and pure. I still have yet to taste wines like these. Love
Overall, the only criticism I had of VinNatur  is on the use of barriques by many producers.  There is still way too much barriques use for my palate and I wished that wine makers who prefer using oak, would use larger and older format wood so that their incredible fruit would shine through