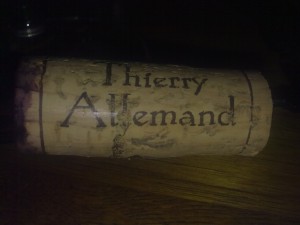 A local boy who didn't have the fortune of being born into a wine making family, nor did he inherit any vineyards, Thierry's interest was self-inflicted. He was a young,  "angry teenager" when he created his first vineyard in 1982, a tiny 0,26HA (0,16HA of this were vines planted in 1961), next to Auguste Clape (La Côte), slowly thereafter adding two more tiny, well-located plots, Chaillot & Tézier. For the most part the vines were young, but to these babies he added some vineyards dated 1905-1908 and shortly thereafter, the addition of some Reynards that dated back to 1934. He now has a total of 4,15HA.
Today, Thierry produces three wines. Chaillot (approx 6000 bottles) from vines of less than 40 years of age, the older vine Reynard (approx 6000 bottles), and his sulfur-free version of Reynard (simply called "Cornas", approx 2000 bottles), the wine discussed here.
Thierry has always worked on his own without an agricultural diploma, and without paying attention to what his neighbors were doing.   He does his own rootstock grafting and pruning of the vineyards to get his yields down to about 25-30 HL/HA.  He typically harvests later than his neighbors taking on more risk, yet allowing him to avoid chapatilization (the adding of sugar to unfermented grape must to increase alcohol).
In the cellar, he has practiced very low sulfur dosages in his vats since 1992. In 1996 & 1997, he used no sulfur. He has been making his Sans Soufre "Cornas" (from the Reynards vineyard) since 1998. He is known to use some other unorthodox techniques in Cornas like Macération Carbonique (carbonic maceration) for some of his grapes to extract fruit and to secure finesse. The Syrah grape is a grape that often requires aeration to eliminate the threat of reduction. Thierry's answer this is simple: "I don't add sulfur. Then you can leave the wine alone", he goes on to say.
Date tasted:  June 2, 2010 23:30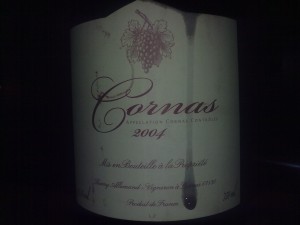 Appearance: Very deep red with little or no visible development. I must disclose, however, that the room was very dimly lit and it was very difficult to gage any visible development.
Nose: Young & tight, extremely balanced nose of dark fruit with a bright fruit background. Super young black olives with fresh pepper. Very focused indeed.  A very expressive Syrah and a very typical Allemand.
Palate: Dark berries with sour red fruit to balance out the wine. Gripping acids and elegant tannins and a finish that "sticks around" for seemingly forever. A very sexy wine that can remind of a top Burgundy in its youth. Very elegant, tight and fresh. Very focused, tight, balanced and sexy! The alcohol is barely perceptible.  A statement in elegance, finesse and freshness.
00:36
Still an amazing and open wine, but very, very slight oxidation was showing at this point.. Then the wine disappeared into our bellies 
I have had the extreme fortune of tasting Allemand's wines on numerous occasions and although my palate has evolved, his wines never cease to impress me.  I'll raise a glass in his honor any time.
(Thank you to John Livingstone-Learmonth and  "The Wines of the Northern Rhône" for the useful Thierry Allemand information)