Date tasted:  May 19th, 2009
Exciting things are happening in Western Slovenia and North Eastern Italy.  The exciting thing that both countries have in common is the Rebula (Ribolla Gialla) grape which is quickly gaining cult status among us wine nerds.    It produces aromatic wines with high acidity and when a little skin contact is added to the mix, wines of great complexity and length can be produced.  (White) wines with skin contact are gaining popularity in the wine world and being referred to as "orange wines" due the color that extended skin contact gives the wine.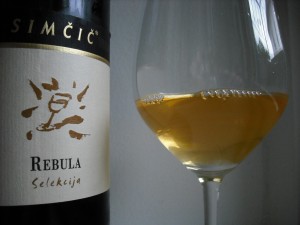 Vinarstvo Simčič is situated in Ceglo (Zegla), a small village in the region of Goriska Brda, by the Slovene-Italian border, by the Italian hills of Collio.  Half of their vineyards lie in Slovenia while the other half lie in Italy.  An hour and half drive will get you both to Venice or the capital of Slovenia, Ljubljana. I have been told that this is one of the top producers in Slovenia, if not the top.  In fact, I was speaking to a respected source who also sampled some of their red wines (blind) and said that they were better than many Bordeaux's….
They grow 100% of their grapes in their vineyards, which cover 16 ha.   They believe in the most natural methods of viticulture, reducing crop and leaving the grapes on the vine as long as possible.  They also follow ancestral and traditional vinification methods in the cellar, which is located 5 meters underground.
This wine is the Rebula Reserva (Seleklija).  The Rebula vines are 48-51 years old and lie at an altitude of 200-250 meters above sea level.  They have a North-West exposure and the soil is composed of marl, slate and sandstone.  The grapes are hand-harvested (bunches are carefully selected)  at the beginning of October.  The fermentation takes place with the skins in 3000 liter conical oak barrels (tino) using only indigenous yeasts.  The wine is separated from the skins after 6 months of maceration.  The wine is then matured in big oak barrels for 2 years.  The wine was bottled in September of 2008 without fining or filtration.  No added sulfur.  Only 2000 bottles produced.  13.5% Alcohol (14% according to the label).  Total acidity is 4.56 grams per liter.  Price in Norway is 250 Norwegian Kroner ($39)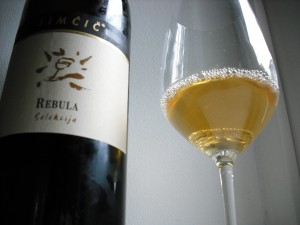 First tasting:  15:51 (3:51pm):  (from the refrigerator)
Appearance: Apricot orange.  Very clean looking with medium intensity.
Nose: Yellow fruit especially yellow plums.  Fresh apricots.  Hints of acacia honey.  Hints of herbs with underlying minerals
Palate: Ripe fruit, apricots, sultana raisins (semi-dry).  Medium to medium plus acidity.  Medium to medium plus alcohol.  Long finish, light minerality.
Second tasting:  16:31 (4:31pm):  (cellar temperature)
Nose: Tighter, more complex yet more focused.
Palate: Focus on the palate also sharper, alcohol a lot more integrated (interesting since this was now a few degrees warmer).  The wine has become very elegant with very mild tannins starting to emerge.
Third tasting:  21:00 (9:00pm):  (cellar temperature)

Nose & Palate: Amazing focus and elegance with "sweet" fruit emerging.  Lots of apricots.  Mild tannins, ripe acidity and great length.
This wine improved after being open half a day.  I often find that wines that are more natural tend to improve over the course of several hours and even days.  Unfortunately, this wine was so good that it never had a chance to make it to day two or three.  In my opinion this is a serious wine well worth the price tag.