Date tasted: I have tasted this wine on 3 different occasions but this tasting note is from tonight, 23 March, 2009
I rarely get taken aback and impressed with a wine. But this wine catches me off guard and surprises me every time I have tasted it.
I may not have been given the gift of a great memory, so I will never be a walking encyclopedia of wine, but I feel the one thing I am gifted with is a great palate…
My point is, I am quite picky when it comes to quality because I can sense it.. This wine is both a wine that IS well made and one that I really enjoy. There are plenty of good wines out there that I just don't enjoy, but the quality is evident.  This wine is simply put, fantastic… Especially when the price is taken into consideration.
I always taste wine and judge wine for what it is, that's simple. However in my final judgment, I take price into consideration. After all, we are after value right? Well, this wine is in my opinion a FANTASTIC value. A terrific wine, simply put… and even more so at this price point.. WOW.  A wine so awesome in my opinion, I had to write about it.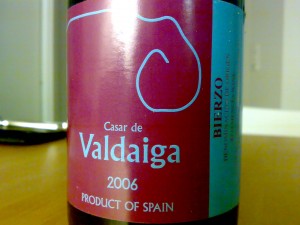 Established by D. Francisco Peréz Carmés in 1986  in Villafranco del Bierzo, Bierzo, Galicia.  Peréz Carmés S.A. adheres to the following norms:
"Be truthful"
"Sell only wines we ourselves would drink"
"Respect the environment"
"Combat alcoholism"
"Interest everybody, but particularly young people, in the wealth of values, within sobriety and good taste, that vines and wine represent in our culture"
"Open up our wine cellars and vineyards to all those wishing to see, hear, touch, smell and taste"
Organic viticulture and wine making since day 1; certified organic since 1995.
This wine, Casar de Valdaiga, is 100% Mencia grape variety and enjoys 30-60 days of skin contact depending on vintage. Fermentation is spontaneous and in steel. Maturation is carried forth in both steel and cement for 18 months..
Now for the juice: Please, remember to serve young red wines at the correct temperature – around 14-15C (59-61F)..please… let them warm naturally in the glass..
Please also be advised that I recommend a larger format glass for this wine (see glass on the left in the photo below). Like you might use for a Pinot Noir or Nebbiolo (Barolo or Barbaresco). The reason I recommend this size glass is because the wine is very aromatic and requires a lot of airing and swirling and delivery to the correct part of mouth.
Appearance: Darkish, darker than Pinot Noir, but not that dark, so somewhat see-thru. Youthful looking with a medium high intensity
Nose: This is one of those wines that has such enticing aromas that I forgot to taste it for at least the first 10 minutes..wow…  Beautiful and fresh floral aromas. Rose pedals and other fresh flowers. Blackberries and hints of morrell cherries. In the background and suggesting that this was a serious wine, were hints of fresh blood.. Extremely fresh and cool.
Palate: Much of the same that appeared on the nose was there on the palate. Fresh blackberries and morrell cherries and tons of fresh flowers, especially rose pedals. Hints of fresh blood and a minerality to suggest a very serious wine. Tannins were firm and serious. Not like you would find in a Nebbiolo, but firm and totally fruit derived…not a stitch of oak here. Thank goodness.  Though much of the fruit was dark, the wine was extremely fresh with underlying red fruit and sublime acidity.  The finish was long…. Unbelievable.. Wish it was a magnum instead of this boring "half-magnum".
In summary and in my opinion, this is an amazing wine. Especially when the price is taken into account. In Norway this wine costs only 130 Kroner ($21) .