Jean-Marc Brignot is not a new name to me. I have met him on  a couple occasions and I have tasted his wines numerous times. I have also mentioned him here a few times.  If I was asked to name one of my favorite wine makers, I wouldn't hesitate.  The wine that I am writing about here even landed on my top 9 list after only tasting it twice.  And now, thanks to Thomas and Synnøve, I had the chance to taste one of my all-time favorites. The Rayure… a legendary wine in the natural wine world.
We enjoyed this wine with Patrick Desplats (Griottes) and his girlfriend Gaëlle Berriau who happened to be visiting me at Jacob's for the weekend. I don't know much about the wine, but here is what I do know.  It's from the Jura, a blend of Savagnin (white) and Poulsard (red) with no treatments in the vineyards, spontaneously fermented of course, carbonic maceration (at least semi), long maceration, no temperature control, no enzymes, no treatments, no clarification, no filtration or sulfur. 2008 vintage and 12.5.5 % alcohol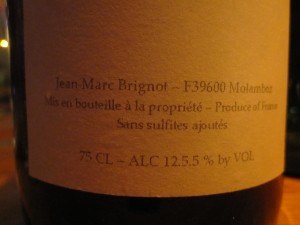 One thing we all agreed on (since the 6 of us had tasted this wine more than once, in fact, I was the "virgin" in the group having only tasted it two times before), was that this was a "good" bottle and drinking beautifully.
Date tasted:  Saturday March 5th, 2011 around 22:30
Appearance: wow… what can i say? Red, white and something in between.
Nose: What can I say?!  The sort of aromas that not only jump out of the glass, but never fail to make me jump out of my seat with excitement!  Aromas that can only come from the very best spontaneously fermented grapes.. It's a smell that a group of friends and I have always called that "sponty smell".  This wine had it, and I love it..Very high intensity, even though slightly reductive at first. Pink grapefruit, sweet tomato juice (clear), slightly spicy, arbutus fruit (see photo), blood orange (and peel), brie de meux.
Palate: A slight tingle on the tongue on entry. Very mineral, with fresh blood orange-like fruit. Also blood orange peel bitterness on the finish, but very slight and very pleasant. Texture like oil (same sort of texture in Robinot's Concerto d'Oniss). High acidity, but mature, juicy and very (too) drinkable. Medium, feminine tannins. Very long finish.  A stunner
Now to get my hands on another bottle…hmmmm..
Wanna read more about the Jura, Molamboz and Jean-Marc Brignot?
And if my words aren't enough, here is a short video I shot of Patrick Desplats as he tastes the wine! The video is in English and in French. Even if you don't understand French, his expressions say it all!

Patrick Desplats of Domaine Griottes from vinosseur on Vimeo.