I have to admit that I feel right at home in Krakow, even though some would say that it has a lot to learn from it's more wine-oriented bigger brother, Warsaw.
In fact, one reason that I feel right at home here in Krakow is because it reminds me so much of Bergen, Norway where I now work (and lived for 8 years). No, the architecture is not the same (at all), the people are certainly not similar and the weather back in Bergen is not even remotely close to the glorious weather (by comparison) we have here in Krakow.
What is so similar to me is that Bergen has always crouched in the shadow of the country's capital, Oslo. Oslo is where anything wine happens. Fairs, events, dinners, winemaker visits and it's home to the majority of Norwegian wine importers. There is always an inherent wine struggle in Bergen, and I feel that the Krakow-Warsaw scenario is much the same.
But things are looking up in Krakow as I find it much easier as time goes by to find wine that I can actually consume, so thank you!
Le Due Terre is a producer I know little about except that the producer is from Friuli in the North Eastern tip of Italy and that they produce low-intervention wines – the sort of wines I love to drink. I had tasted their wines on less than 5 occassions, so when we were presented with a magnum of Schioppettino («the little fire cracker» in Italian), we paid no notice to the 2002 vintage stamped on the front label. Schioppettino is a grape I have come to love due to it's extreme freshness and peppary mouthfeel, so I was looking forward to this double-sized dose! Here's my brief tasting note: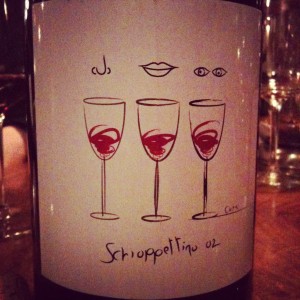 Date Tasted: March 3rd, 2012 20:30
Appearance: Still youthful with barely a hint of obseravable age
Nose: Again youthful. Barolo-esque with hints of forest leaves and sour cherries.
Palate: Elegant, focused, light and long. Inky. Bitter almonds. The very delicate green hints (perhaps a vintage trait) help to actually lift the wine giving it added freshness. With some time in the glass, my thoughts of Barolo drift away as the wine starts to resemle a wine from Cornas, with it's elegant focus, light pepper hints and loads of acidity.
This is overall a very elegant and delightful wine with tons of drinkability, in fact I believe that the magnum disapperared within an hour.
*This post was written especially for Winicjatywa and translated to Polish language here