Ah… Slovenian wine. Although you can certainly find Slovenia on a map, I hope to see it more and more visible on wine maps. This smallish country of about 2,000,000 is really producing some interesting, if not great wines. Some of my favorites in fact. Refreshing reds &  skin-macerated whites (aka orange wines), many of which practice low-intervention farming and wine-making.
Sutor's farm is located in the Vipava Valley of the Primorska region.  You can read more about Sutor on Wojciech Bońkowski's blog.
The Sutor website doesn't even mention the production of a Pinot Noir, but with a bit of research I was able to find out that the wine has been fermented and macerated with de-stemmed whole Pinot Noir berries in Stainless steel, then transferred to mature for one year in barrels.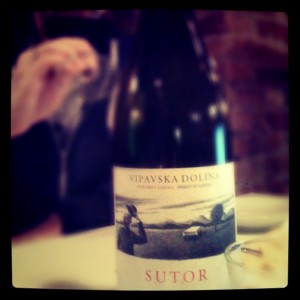 Date tasted: Friday the 13th of January 2012
Appearance: As it poured into the glass, it inspired confidence. Not having tasted, or remembering tasting, the wines of Sutor, I didn't know what to expect from this Pinot Noir. Will it be dark and extracted like you often see  in the new world or in some modern Pinot Noir's coming out of Burgundy today? In fact, no it wasn't. What poured delicately out of the bottle and into our glasses was a cranberry-red, non-opaque wine that I recognized as the color of Pinot Noir – the sort of Pinot Noir I studied and drank for years. Holding my fingers behind the glass of wine, they were easy to see.  I now looked forward to my first sniffs…
Nose: Extremely fresh with no intrusions from the oak. First thoughts were of Burgundy or even of a Beaujolais Morgon. Light red fruit like cranberries, delicate raspberries and some hints of herbs and earth. Very clean on the nose without any burning sulfur notes. Very precise and focused. Enticing while at the same time, not deep.
Palate: Same on the palate. Fresh, red-fruit driven wine with great acidity. Clean and delicate. Not terribly complex, but quite honest and drinkable.  As the wine opened up, what appeared to be overly-sweet  fruit and hints of oak became a bit more dominant and the wine lost a bit of its appeal to me. Was the wine overripe? Was it unbalanced? I have to be honest, the wine perplexed me a bit.  We couldn't finish the bottle..
The next day I began to think about this tasting experience…and then it hit me. Although the wine was not very complex or deep, those overly sweet notes and hints of oak that appeared after the wine sat open must of been indicators that the wine needed perhaps a few more years of bottle maturing? Although the fruit became  too sweet and dominant, the more I reflected on it, the more I realize that the fruit was not overripe, but young and perhaps a little too expressive, dominant and maybe even a bit vulgar. Will the fruit calm down and integrate over the next 3-5 years? I would suggest so…and i would be happy to drink another bottle