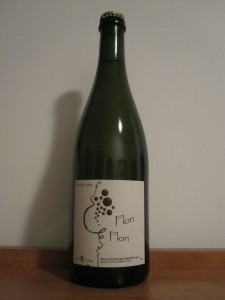 Finally! I have been tasting, drinking and enjoying this wine for a year now ever since Patrick Desplats (Domaine Griottes) and his girlfriend Gaëlle came up to Jacob's Bar & Kjøkken for a visit. I must have helped consume 30 bottles, not to mention that it was the welcome drink for guests at my wedding.  Flon Flon and I are close friends by now
One of the most enjoyable sparklers I have ever tasted, and everyone else who has tasted it agrees.
A wine from the Anjou area of the Loire Valley made with organic Chenin Blanc grapes, spontaneously fermented without any additions. The wine was bottled (again without additions) before fermentation could finish it's process of eliminating the grape sugar.  As fermentation continued in the bottle, sugar was slowly digested producing carbon dioxide (bubbles!) and perhaps a half a degree more of alcohol. This is the natural way to produce bubbles in a bottle. The resulting sediment was not removed. The wine was left as it was. I am happy about that 🙂
Over the last year the wine has improved. My first experiences with the wine suggested that there was still some residual sugar which today has diminished a bit. Mother nature at work. The wine today is one of the most expressive examples of Chenin Blanc  I have ever tasted. Proof that healthy ripe grapes, a lot of know how (thanks to Patrick's help I'm sure), a lot of patience and hard work can pay off.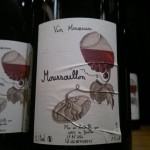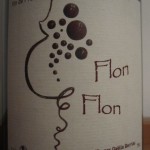 One thing I have to mention here is the label. Now, I personally love the labels found on the bottles of natural wine. They sort of represent the anti-label. Often poking  fun at conventional assumptions of what a wine label should look like.  Gaëlle uses the same label for all of her wines, and I love it! I also love Patrick's Domaine Griottes labels (see label detail on the right). Now to the discerning eye, there is something else about the label(s) that I love.  There is no mention anywhere that the wine(s) contain sulfites, and you won't find this on the back labels either because there are no back labels. This is because according to EU labeling laws, you don't need to write that a wine contains sulfites on the label if the wine has less than 10 mg of sulfur at time of bottling. Something that is no easy feat. It takes years of hard work, dedication and sleepless night for sure.
Ok, say no more, time for my tasting notes on the Flon Flon. i don't know how many bottles were produced of this wine, but I am sure they number less than 1,000
Date Tasted:  January 11th, 2012 19:30 (and many many times before this night)
Appearance:  Lot's of sediment floating in the glass. Dark colored sediment. Yellowish. Click on the photo and see for yourself
Nose:  Sweet lemons and citrus aromas with some hints, and only hints, of mild caramel (like those milky caramels we used to chew on as a kid ). But without being overly sweet on the nose. Mineral undertones.
On the palate, there is some residual sugar, but it is much less sweet and/or seemingly sweet than it was the first time I tasted the wine a  year ago. Great, ripe acidity. Most would place the acid at only a mid level, but if you pay close attention, the acidity is noticeably high and refreshing,  never harsh or abrasive. Absolutely refreshing. The bubbles are firm enought to appease the sparkling wine drinker, but at the same time integrated and not overbearing. A nice long finish. Very balanced, very drinkable.
The only drawback I can think of about the Flon Flon is that I only have one bottle left.