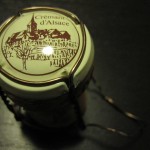 I'll be the first to admit that I am not a fan of Pierre Frick's wines. I am sure the wines are good (in fact, positive they are good), and that they are made with quality, organically grown grapes, but they just don't speak to me.  In fact, I have an issue with the wines of Alsace in general. Is it their flowery style I don't like or their super-fruity expressions, some with residual sugar, that I find hard to gulp?  I have not tasted all the wines of Frick, have you seen how many different bottles of wine he produces?!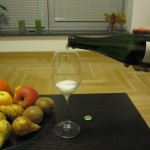 Anyway, on to this wine. A Crémant which is supposed to be one of the favorite of Frick's wines according to many reliable sources – so I was looking forward to tasting it.  Made in the traditional Champenois method, then disgorged and dosed (upwards of Champagne Brut levels – I can only assume based on my tasting), this reasonably priced sparkler (about 55 Polish Zloty) is perhaps the most interesting sparkling wine available in Poland today.   That's about all I can tell you about the wine because trying to find out any of the other details about it didn't prove easy. i am not even 100% sure about the grape!  Pinot Auxerrois, Riesling, Pinot Blanc, or a combination of the three? One reliable source was confident that it was 100% Pinot Blanc. Ok, I'll believe that.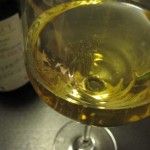 Date Tasted:  November 18th, 22:00
Nose: Quince apple jam, semi-dried (not oxidized) yellow apples, persimmons, carrots (spiced, as in carrot cake),  and other sweet notes like melon, kiwi. Exotic but not tropical. Very complex indeed, very. I could have spent the whole night just smelling the wine, but I got thirsty 😉
Palate: Very fruity with some residual sugar, not sure how much, but enough to give this wine a semi-sweet edge.  Pecan pie (caramelized pecan's for those who have not tasted the pie version). Great acid with a super long and complex finish. Would be great with not too sweet dessert cakes and some semi mature cheeses.
A very complex wine that has a lot going on and so many aromas and flavors. So much going on that some might even say the wine was unfocused. I would say, rather, that the wine was entertaining and kept me coming back to the glass to see what i would find next.  It would an interesting wine  to try again in 3-5 years. Or, the hell with it. Drink it now!
Who knows, perhaps I am becoming a believer….