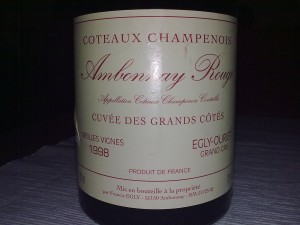 Date tasted:  July 11th, 2009 22:30 (10:30 pm)
Egly-Ouriet has been a personal long time favorite producer of mine. The Champagnes see long lees ageing making them very complex and yeasty.  Located in the village of Ambonnay, Francis Egly owns approximately 8ha of vineyards, the majority of which are in Ambonnay.  All of the vineyards are classified as Grand Cru and have the reputation for producing some of the best Pinot Noir based Champagnes.  Most of the vines average between 30-50 years of age and are farmed using "common sense" principles.  In the most recent years, Francis has reduced the amount of chemical fertilizers, herbicides and pesticides.  He never fines nor filters his Champagnes.
This specific wine is a still red wine made with Pinot Noir.  I am told that Egly-Ouriet produces some of the best wines in the Coteaux Champenois under the guidance of Dominque Laurent.  Only about 200 cases are made.  12% Alcohol.
Appearance: Classic light Pinot Noir color with medium plus intensity. I was in a dimly lit place so I can't be very precise with the appearance.
Nose: Sweet smoke, cedar, oak and minerals. Ripe cherries, red licorice and raspberry. The bouquet reminded me of the small candies and anise seeds you get when you leave an Indian restaurant.   Some hints of forrest floor and leaves. Quite complex on the nose.  Hints of tobacco.  Intensity about medium.
Palate: Cedar and smoke. Raspberries and those same small Indian candies and anise seeds I got on the nose. Great acidity with medium plus length.  Good concentration while remaining light and fresh. Great structure with mild oak tannins.  Sour cherries. Very elegant.  Hints of dried sour plums.  This is a very elegant wine with still dominant, sweet, cigar box oak.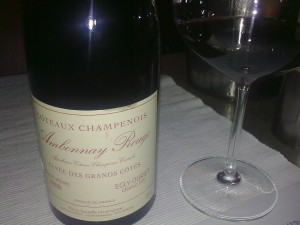 23:35
Subtle hints of sulfur emerging, stinging the nose ever so slightly.  Hints of rubber. Seems as though the wine is closing and the fruit becoming less obvious. The wine never quite returned to it's initial glory.
A great wine to have the opportunity to taste. I have tasted this vintage on two diferrent occassions and have been impressed both times. I have also tasted the 1999, but prefer the 1998 for its elegance.  This is a well-made Pinot Noir that is drinking well now so if you own a bottle, drink up!