Before I get to the the tasting note, I just want to start off by asking you to bare with me. I haven't been posting as often as I would like because  I am still trying to figure out this WordPress thing. The posts on my site don't show up the way I'd like them to. So, until I figure this out, please be patient with the placement of photos within my posts. Thank you. And without further delay:
Detail from the back label:
"….Barolo will naturally produce a sediment as it matures. Before Borgogno will export any of their mature wines, each bottle is decanted from this sediment, checked, and then topped up from the same vintage and recorked. For this reason the corks in the olders wines will be new, but the quality has been guaranteed by the producer before shipment. DECANTED: JULY 2007"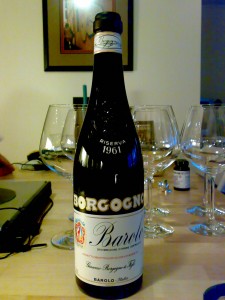 Opened and NOT decanted. Poured into large Burgundy glasses.
The wine was a light rusty red with rusty brown edges – color still quite "intense" considering the 47 year age of this wine
Sniffed immediately:
INITIAL IMPRESSION ON THE NOSE
slight farmyard scents with some crushed rose pedals
eucalyptus leaves
sour cherries
forest floor
some spice in the background
a little burn on the nostrils from the alcohol.
Tar and roast meat emerging on the nose after some time in the glass. Also
some licorice emerging – more perfumed and more intense fruit
INTITIAL IMPRESSION ON THE PALATE
sour cherries and dried sour fruit
gripping tannins (still after all these years) and
high acidity (still after all these years)
finish persisting for 15 to 20 seconds
15-30 minutes after the bottle was opened, the wine started really opening up – fruit was more intense on the nose and on the palate. Acidity more pronounced and tannins a bit softer, but still quite firm. The wine remained well-balance throughout.
A typical aged nebbiolo with classic nebbiolo nose and palate with well defined and firm tannins. Well made, good concentration and balance, but not very complex. I believe that this bottle still hade some life ahead of it – enjoy now or for another 5-10 years.
Although it's always interesting to taste a mature wine, this wine didn't leave me desiring more..
And now, the photos: