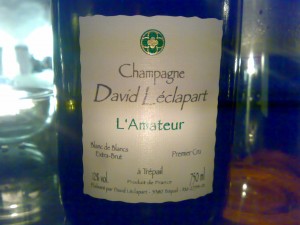 Date tasted: March 25th, 2009 (also on at least 4 other occasions over the last two years.)
David Léclapart is a biodynamic Champagne house located in Trépail in the Montagne de Reims. Montagne de Reims is the home of the Pinot Noir grape, but Trépail is an exception to this rule.  Trépail is a Premier Cru village that grows Chardonnay in the heart of Pinot Noir land.
David has farmed his 2.75ha of vines biodynamically since 1998, producing a measly 7000 bottles per year in total,  spread across 4 different wines.  He uses minimal sulfur and doesn't filter.
This cuvée is called L'Amateur and from what I gather, it's his "entry-level" Champagne. It's a blend of Chardonnay grapes from within Trépail.  Although the vintage is not clearly marked on the front label, this IS a vintage Champagne. On the back label in small writting you will find "L.V02". I don't know how long the wine has been on the lees, but I would estimate based on purchase date that it spends around 4 years on the lees.  This is an Extra Brut (less than 6 grams of sugar per liter).
Appearance: Some development showing. Good bubble structure and fine mousse.
Nose: I have had this cuvée and vintage on at least 4 other ocassions and this Champagne has really developed in the last few years. Intoxicating flinty minerality dominates with  pure green and yellow apples with some citrus overtones. Some honey notes and mushrooms in the background as you might expect to find on a developed Chardonnay.
Palate: The best way I have come to describe this Champagne when I have tasted it in the past has been to describe it as a very well made, unoaked Chablis with bubbles. Think Louis Michel or Daniel Dampt and you'll get it. Ton's of fresh minerals, yellow apples and hints of flint on the palate.  Fine and elegant bubble structure.
This is what I call a transparent wine. Everything is as it should be and easily understood. The fruit and structure are clean. It's like cooking that fresh meal using the freshest of ingredients and being able to taste every single one of those ingredients. This is why I like naturally made wines. You can taste what should be in the bottle. David respects four principles:  purity, energy, pleasure and ecology. And, this is evident.
Some say that Champagne doesn't develop well when it's given a low dosage (of sugar in the form of grape must) after dégorgement, but this Champagne with it's very low dosage has developed marvelously and is simply put,  is impressive. I have always loved this Champagne and this experience was no exception. I did feel however, that it was at or very near it's peak, so if you find a bottle of the 2002, buy it, drink it, enjoy it!