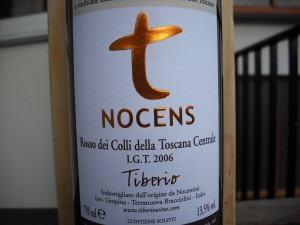 Tiberio
Loc. Gropina – Fraz. Penna, 116/A
(Terranuova Bracciolini)

Italia
+39 338 4604806
www.tiberiowine.com
Date tasted: September 9th, 2009 18:30 (6:30pm)
The Nocens  is Tiberio's top wine and is made from Cabernet Sauvignon and Canaiolo in equal parts.  The grapes are farmed organically and are grown in Chianti D.O.C vineyards. Grapes are harvested by hand.   The wine is designated "Rosso dei Colli della Toscana Centrale (I.G.T)"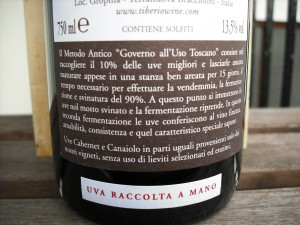 The Nocens  is made in the "Antico Metodo Governo all' Uso Toscano".  A pre-harvest selection of 10% of the top grapes are harvested by hand and placed in a well-ventilated room to let them finish maturing (and drying) for about 15 days, time enough to finish the rest of the harvest. The rest of the grapes are also harvested by hand and fermented spontaneously using indigenous yeast and without the use of enzymes.  Once the fermentation is completed, the pre-harvest "Antico Metodo Governo all' Uso Toscano" grapes that were set aside are added to the wine and a second fermentation commences (think "Ripasso" from the Veneto here). The wine is then aged for 12 months in 225-liter French Barriques. The wine is bottled without filtration
Appearance: Clean. Medium dark red with hints of blue. Medium to medium low intensity.
Nose: Clean.  Medium intense nose of dark cherries and wild black currants with hints of cedar and eucalyptus. Medium complex wine with  well-integrated oak on the back end.
Palate: Clean.  Good fruit on the front end. Sour cherries, black currants and blackberries. Good structure and good acidity carrying the wine to a medium-long finish with medium tannins.  Oak is well-integrated, but noticeable lending to the tannic structure of this wine.  Very well integrated alcohol at 13,5%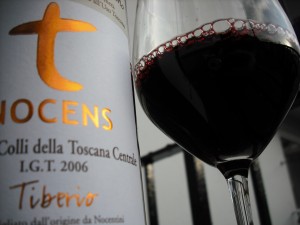 Overall impressions: This is a well-made wine with good structure, balance and clean fruit which should be a pretty good wine to match with food.  I am thinking a grilled steak, or grilled vegetables would be a nice complement to this wine. This being said, the oak is too dominant for my palate, but I feel that many people will enjoy this wine. It sits nicely between a modern-made wine and one made traditionally.  In my opinion, this wine can be stored for a few more years, but I don't think that it will improve so I would drink it now.
I have tasted other Tiberio wines and find his fruit to be clean, precise and on the feminine side (especially his Sangiovese, my favorite of his wines) and I feel that his wines would be better represented if they weren't stored in oak. For those of you who share my feelings on this, rumor has it that he is playing with some un-oaked versions of his wines as I write this and perhaps I will have the opportunity some day soon to taste as stainless steel version of his Sangiovese.