Wednesday October 1st, 2009
So we landed at Linate Airport (Milano) at around 11:46 this morning, and Jørgen was outside waiting for us in the rented FIAT 16. It was 26°C  degrees and sunny; a welcome change from the 8°C degrees and rain in Bergen.

Our first stop was at Ca' d Carussin in Asti. Just to refresh your memory, they are the ones who produce the wonderful Barbera d' Asti Asinoi and Barbera d' Asti Lia Vi.  Their total production is around 90,000 bottles, 100% Biodynamic, and everything including their Moscato d' Asti is spontaneously fermented using indigenous yeasts. The only fermentation/storage containers to be seen were made of cement, steel or fiberglass.
Upon arrival we were greeted by the entire Ca d' Carussin family – Luigi (Garberoglio) and Bruna Ferro and their grown children Luca and Matteo, who were busy in the "cantina" working on the vintage (the harvest) which had just been completed that day.  We chatted with them for a few hours, sipped on coffee made with a very old stove-top Moka while cats, dogs, birds a mouse and of course donkeys (jackasses) wandered around the premises. In fact, Bruna is very affectionate of her animals, especially her jackasses ("asini" in Italian) and went on to explain to me that they are misunderstood creatures. She told me that although we consider them to be "dumb" or simple creatures, they are in fact quite smart and complex creatures who have a knack for sensing danger and won't do anything  they don't understand. Hence the name of this wine, Asinoi. A play with words which means "we are jackasses". Also signifying that the wine is simple, yet complex. Not unlike the jackass.
We then headed over to Luigi Garberoglio parents "country" house and "winery" where we were greeted by Igino Garberoglio, Luigi's father. We found Igino in his miniature wine-cellar making his own wine. The 75 year-old Igino makes about 200 bottles of wine in a most natural way. He farms organically and uses only a teaspoon of sulfur during the process. He proclaims that he makes "real wine" like he was taught as a youngster. He then bottles without filtration of course and forget about the labels – he has none. He makes this wine for himself and some close friends.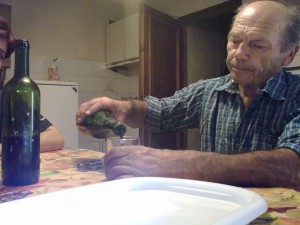 We had a small two-minute tour of his "winery" and then sat down in the kitchen. He ran back to the cellar and came back with a few bottles of the wine he calls "Borgogno". He was uncertain of the grape variety, even after analysis. He however was quite certain that it was at least partly Pinot Nero but displaying some aromatics which made him uncertain  – we agreed with his assessment.  He poured the wine and it had a slight sparkle. That quickly burnt off. This was a serious wine with quite complex aromas, good structure and concentration with a long fresh finish. We sipped this wine from traditional wine glasses as we snacked on fresh bread baked in a wood-burning stove with young, un-seasoned salami. It was wonderful.  And so our natural wine making experience has begun!
Now we are heading back to Luigi and Bruna's house for a nice dinner! I have a feeling tomorrow will be a much harder day then today….