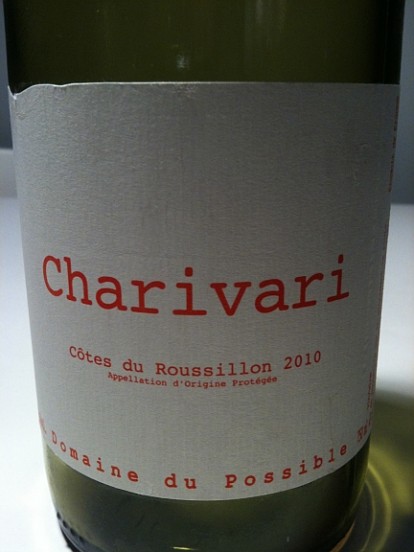 A French folk custom in which the community gave a noisy, discordant mock serenade , also pounding on pots and pans, at the home of newlyweds (usually for a wedding they regarded as questionable).*  They called it Charivari ("rough music"), and so did Loic Roare of Domaine du Possible in the Côtes du Roussillon (Lansac) for his Carignan.  And I can see why he would call his wine Charivari after tasting this triumphant wine.
Loic's estate goes beyond organic and biodynamic principals.  He has only used the Bordeaux mixture (sulfur and copper) twice in the last 6 years, avoiding all treatments whenever possible, opting for herbal infusions instead.  He works with a variety of vines including the 52-105 year old Carignan vines used for making this wine.
This wine is carbonic with temperature control to keep the temperature low. No pumping, just gravity to help the process.  The fermentation occurs spontaneously with indigenous yeasts.  He uses little or no sulfur, depending on the vintage.  The average yield in 2009/2010 was 17/18 hl/ha, so rather low.
When I opened the bottle, it was rather reductive so I decided to decant it.
Sweet strawberries began to emerge along with some serious notes of minerals and licorice. Nice acidity with some sour raspberries as well. Tannins began to kick up quickly. Rather more serious than many other carbonic wines I have tasted. You can feel the warm fruit as it opens to reveal some dark plums and cherries.
This wine was purchased at Vivant in Paris last year and it's a relative bargain at about €12.
*thank you Wikipedia & Looking at History