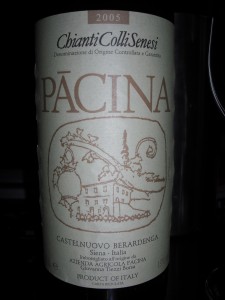 Date tasted:  May 16th, 2009
I have tasted a few Chianti's from the Colli Senesi DOCG and they are often fresh and light. This wine seemed more like a Brunello di Montalicino than a Chianti or Chianti Colli Senesi.  With some digging I found out that Azienda Agricola Pacina is located in Castelnuovo Berardenga, but his vines are in the Colli Senesi DOCG (which I am told you can see from the kitchen window).  I should also add that on a clear day, you can see Montalcino from the estate (home of the afore mentioned Brunello di Montalcino), which could be part  of the reason why this wine was more like a Brunello to me.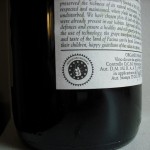 The 10ha vineyard for this wine is made up of sand, clay and oyster fossils and is farmed organically, leaning towards biodynamics.  The blend is 97% Sangiovese and 3% Canaiolo/Ciliegiolo.  The grapes are hand harvested, crushed and the alcoholic fermentation takes place utilizing indigenous yeasts.  The wine is left to macerate for around five weeks in concrete tanks (the long skin contact could be another reason why this wine resembled a Brunello).  The wine is then aged for one year in (5-10 year-old) 500 liter barrels and botti of 17-25hl.  The wine is then bottled without clarification nor filtration.  Very little sulfur is added at this time ( I'm told 15-20 mg) and aged a further 6 months before release.  25,000 bottles are produced.  Alcohol:  13.2%  Total Acidity:  5.5%.  Price in Norwegian Kroner is 200 ($31).
Appearance: Dark brick-red with good color depth.  Medium intensity.  Still nice dark edge suggesting that this wine is younger than it really is.
Nose: When first opened, slight hints of onion, suggesting that there was slight reduction.  This very quickly burned off.  Hints of mineral emerged along with dark cherries and dark plums.  Hints of herbs like rosemary.  Some dried fruit notes on the back end.
Palate: Dark cherries and cherry pits.  Medium plus acidity and medium plus tannins which actually increased and began to over power the wine a bit once in the glass for 10 minutes.  It was difficult to distinguish weather the tannins were coming from the fruit or the 500 liter barrels.  I am quite sure that most of the tannic structure of the wine came form the fruit itself.  Very rustic style of wine with secondary aromas that emerge about 10 seconds after the initial impression on the palate.  Those secondary aromas sat for 30 plus seconds.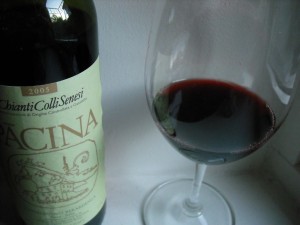 I tasted this wine again on the 19th of May, after the bottle had been open for 3 days and stored in the refrigerator.  It had actually improved considerably.  The tannins were better integrated and the fruit more precise.  It's my opinion that this wine is a wine that could benefit from 5-7 years of cellaring.  A reliable source reported to me that he had recently tasted a 1995 and that it was, to quote him directly "fantastic"!  I suppose that at this price, one might expect that a wine with the Chianti Colli Senesi DOCG can be aged.