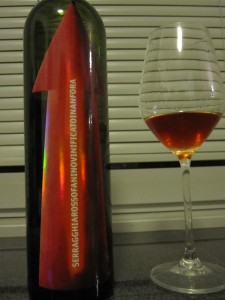 The first time I met Gabrio Bini was….hold on….Facebook. Not a wine fair where most people meet wine makers. It was after I uploaded a photo of his Serragghia Bianco 2007 about a year or so ago and commented that the wine was interesting but thought the fruit was under ripe and green. A Moscato di Pantelleria vinified dry in amphora without any additives, including sulfur.  I remember really wanting to love this wine for many reasons, but I couldn't get around that under ripe fruit.  Well, Gabrio saw this upload and my comment and made a comment himself "you should taste my younger vintages then!". I was surprised. Instead of getting offended and trying to defend his wine, he rather said I should taste again – a more recent vintage.  Enough said.
We didn't talk again for about 6 or so months,  when i received a message in my inbox, once again on Facebook. It was from Gabrio asking me where he should send this bottle for me to taste. I said, better yet, I will be in Italy in a few months, save the postage and send to my Italian address. He said he would do one better, he said he would meet me and hand deliver the bottle.  And so that's the way it went.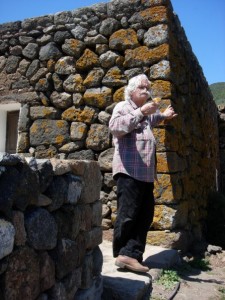 We met and he not only had that bottle for me to taste, but 3 others (and multiples of each), one of which is the wine I am tasting here.
Some people may say that Gabrio is a bit of an eccentric, including myself.  He splits his time between Pantelleria, Milano and Paris and alongside him always is his wonderful artist wife Genevieve.  I could say that actually his wines are in fact as eccentric as Gabrio himself, starting with the label – which is the same for all of his wines, except slight variations in color. A large arrow pointing straight up with the name of the wine written sideways
Ths Rosso Fanino is made from organically grown Cataratto (45%), Pignatello (45%) and Moscato d'Alessandria (10%). Fermented and vinified in amphora where it remained on the skins for 6 months giving this wine a gorgeous pink-orange color.   This process was made completely hands off.  The wine was bottled without filtration of course in April the following year.  1500 bottles were produced, 500 of which were transformed into sparkling versions that remained on the lees until very recently.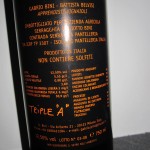 The back label even goes so far as to list ingredients, analytical figures like volatile acidity, etc and states in capital letters "NON CONTIENE SOLFITI" – "doesn't contain sulfur". At less than 10mg total sulfur, you don't have to write on the label that the wine contains sulfur, but he takes it one step further. Obviously somebody from high up didn't like this, and he is no longer allowed to list the ingredients on his back labels.
Date Tasted:  November 19, 22:00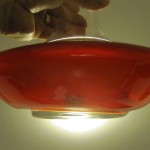 Appearance:  see for yourself – click on decanted wine image to enlarge
Nose:  In one word, Spring.  Earl grey and mint tea aromas along with red flowers, like roses. Rose hips, musk and hints of watermelon as well.  Slight balsamic scents round of the wine well, as do the delicate mineral aromas.
Palate:  Wow.  Tea-like again, delicate and fresh. Tannic, but not too.  Again the rose hips and mint tea, delicate red flowers and red berries with a refreshing quality about it that you don't often find in wine. The wine was too drinkable, if there is such a thing.
If you want to taste the wines of Gabrio Bini, last i heard, Pierre Jancou was serving them at his new Parisian establishment, Vivant.