I was raised in the Bay Area of California and have been enjoying what i believe to be authentically prepared Chinese food for many years.  Oh how I long for those "great" Chinese restaurants which are totally absent here in Bergen, so when a friend invited me over for homemade wonton soup, I couldn't pass up this opportunity.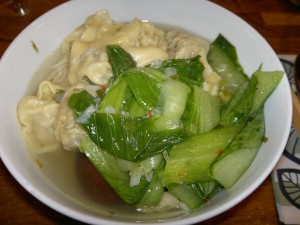 Needless to say, the soup was truly excellent. But there was a surprise waiting to greet me.  An old friend whom I had not seen in a couple of years. And I must say, the years have treated my friend very well.  You know when you bump into an old friend and you notice how great they look?  You notice that they have lost some of that baby fat and they are just glowing…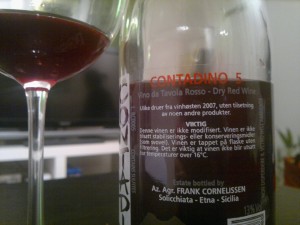 Let me introduce you to my old friend. The 2007 Contadino 5.  Two vintages later, and this '07 is looking, smelling and tasting better than ever.  This bottle hasn't had the easiest two years either. I know it wasn't stored under the greatest of conditions. But pay no matter, the wine was still alive and vibrant!  A few minutes in the glass and aromas of wild spring flowers and red berries started to jump out of the glass.  Even rose-colored rose pedals graced its aromas.  None of the "edges" this wine had in its youth were there anymore. They were replaced by sweet, ripe tannins and  a ripe acidity that was still keeping this wine on its toes!  No signs of oxidation, fatigue or development beyond her two years.  A glorious wine that rewarded its consumers for waiting those two years..
….thank you……