L103 09, what? This wine is a Vino da Tavola (VdT), table wine in English. And by laws governing wine labeling in Europe, they are not allowed to put the vintage on the label. So, one way to let us know just exactly when those grapes were picked, wine makers often use L (lot) numbers to help indicate vintage. In this case, 2009.
European governing wine laws also don't allow wine makers to put the ingredients on the back label of their wine bottles; something that is found on all food items. People just take it for granted that wine is a natural product and that of course, the wines we are consuming contain grapes, and only grapes.  Many of us know that this is just not the case. There are many (even 100) additives used in every-day wine making; some natural, some not.
This why I chose to drink not only wines that I enjoy and love, but I chose to drink wines that are made with grapes, and most of the time, only grapes. Nothing added, nothing taken.
Carussin is one of my favorite producers in Piemonte, a region known for it's age-worthy Barolo's & Barbaresco's, neither of which Carussin produces. They produce wines of simplicity, wines of great fruit character and wines of consistent quality, made with nothing  more than quality, biodynamically grown grapes (a bit of sulfur is used, and that's it).  Their Barbera d'Asti Asinoi  is my favorite barbera, and I often use it as a benchmark to which I compare other barbera's. In my opinion, very few other barbera's stand up to the fruit quality of the Asinoi, and once the price is considered, it's a difficult barbera to beat.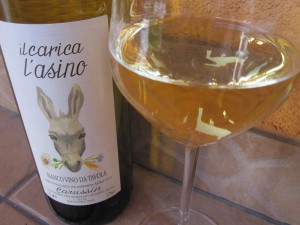 The wine I tasted for this tasting note is Carussin's entry level wine, Il Carica L'Asino. In 2005, a small farmhouse was purchased in the Valle Asinari region by Bruna Ferro & Luigi Garberoglio.  Soon after, the family discovered the diversity of two small parcels of "Cortese Alto Monferrato" grapes which sparked their curiosity.  They investigated a bit further by speaking to the previous owner, a sprightly & kind lady aged 83 years.  She explains that her and her husband began to plant cuttings of  Il Carica L'Asino (load on the donkey) on his land in the Valle Asinari after discovering  from friends in Acqui Termi, the existence of  this ancient Ligurian vine.  This is a curious coincidence that links Bruna's love for the Asino (donkey) and this ancient Ligurian variety.
The biodynamically-grown Cortese Alto Monferrato & Il Carica L'Asino grapes for this wine are usually harvested in the first two weeks of September by hand.  The grapes are crushed and left to spontaneously ferment on their own in stainless steel.  Nothing is added during the entire process except a bit of sulfur.  A light filtration before bottling, and there you have it!
Here is some nerdy information:
Grapes:  Carica L'Asino and Cortese Alto Monferrato Alcohol: 12  % Residual Sugar:  0,0  g/l Total Acidity:  6,0  g/l PH:  3,3  g/l Volatile Acidity:  0,30  g/l Total SO2:  30  mg/l
Date tasted:  May 25th, 2011 19:24 – melanzane (eggplant) alla parmigiana in the oven!
Appearance: medium intense yellow with green reflexes. No age showing
Nose: a youthful, vibrant, medium intense nose of sweet yellow plums, arctic cloud berries and hints of elderflower. Subtle notes of sweet lime on the back end
Palate: Fresh, crisp and very fruity. Yellow plums dominate with a delicate mineral touch to give the wine a (slight) touch of weight, while remaining light and playful. Bitter almond hints surround the fruit. Medium, ripe acidity that cleans the mouth well and helps the wine linger around just long enough to remind you just how balanced this wine is. Five minutes in the glass and one degree warmer, and I find very slight hints of yeast and bread, but only slight. The bitterness also intesnifies a tad, which in my opinion makes the wine more interesting. A very well balanced, although simple, wine with a moderate 12% of alcohol. Great for aperitif or with simple tomato based dishes – like my melanzane alla parmigiana!
19:40
Nose: hints of hay start to appear.