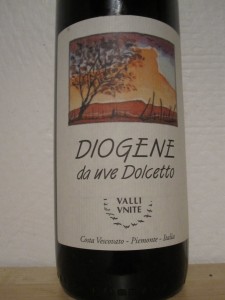 What?! A cooperative making wines without the addition of Sulfur?! Is this possible? Yes it is!  The Valli Unite coop in Alessandria, Piemonte was formed over 30 years ago by three men who merged their vineyards and built stalls for their farm animals in order to use organic manure.  They saw organic farming as the way of the future, and from this was born the Valli Unite coop.
Today, they are a group of 25 people working together.  Their viticulture follows closely the belief that wine drinkers should drink  little, but well.  In their wine production, the aim is to let the wine remain as alive as possible so that it is the true reflection of the grape.  They use old cement vats to ferment their reds later transferring them to barrels.  This wine was bottled without filtration. No sulfur was used from the beginning of fermentation to time of bottling.  Here are my thoughts:
Date Tasted:  November 7th, 2010 20:42 (8:42pm) – decanted after 5 minutes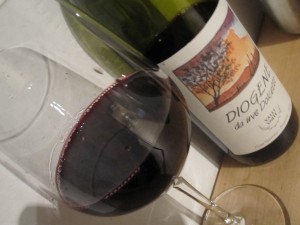 Appearance: Dark purple with light purple edges. Great color extraction and very young in appearance.
Nose: Dark berries, especially black berries with fresh red fruits in the background. «frutti di bosco» (forest berries). Slightly reductive… will decant… purple gooseberries and hints of barnyard and crushed, dried leafs. Smells like a freshly fermented wine.
Palate: slight fizz on the tongue, very slight. Frutti di bosco all the way with tremendous structure, medium (ripe) acidity and gripping tannins. Medium length finish (approx 20 seconds). A very structured wine that has lot's of mouth feel. I don't mean «velvety» –  rather chewy, rustic and a bit «rough». Well integrated 13.5% alcohol.   Not an elegant wine, but a very honest wine which begs for grilled sausage.
21:10 (9:10pm) almost half hour in decanter
Nose: The wine is much more floral (roses) now then before. The reductive notes have fallen to the background and are no longer as noticeable.
Palate: some sour red plums on the finish now. Tannins have stepped up a bit and now dominate a bit.
November 8th, 21:52 (9:52pm)

Nose: more fruit showing and less reduction. Tree bark.  Blackberries and raspberries. Also some black currants and purple gooseberries. Very slight hints of dark licorice and bitter almonds (like found in the pit of a peach)
Palate: Still has very grippy tannins, really feels like you are chewing on the pips of the freshly picked grapes. Pure fruit quality in my opinion. Mostly dark berries, but yet a fresh wine. Hints of licorice and dried leafs. Again, really strong character of pure grapes and the pips. Really more open then yesterday. A slightly bitter finish. Really enjoying this wine today – just like eating the grapes off the vine. Picture this – you walk into a vineyard and grab a handful, and I mean a handful, of healthy, ripe dolcetto grapes and just pop them in your mouth. This should give the idea of the how this wine is every time I take a sip. This is one unsulfured wines which I feel could benefit from some storage – let's say a year or two?  And you know I love my wines young.
November 9th, 18:15 (6:15pm)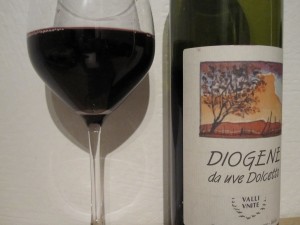 Nose: More earth and dark berries. Hints of lavender. Alcohol also more noticeable on the nose than it was in previous days.
Palate: A bit rounder today. Tannins  softened a bit. The finish is a bit more leafy. Just as fresh as the first day opened, but the tannins seem a bit more integrated today and the finish is more «almondy» now, which I love.  Alcohol still not noticeable on the palate, well integrated.
I drank the last glass and a half with a homemade burger topped with white cheddar, caramelized onions and avocado… gotta say that the wine was a bit too much for the burger, even with the cheese and onions. Although Dolcetto's are often paired with «carne cruda» (or beef tartare) with the raw egg and the fixings in Piemonte, this dolcetto would be too much in my opinion. Try this wine with another Piemontese speciality,  fresh pasta with rabbit ragu. Or if you are in Norway, like I am, try with some duck confit. With the wild flavors of the duck, this wine should pair well.