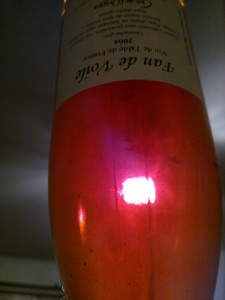 I've written about Marc Barriot and his Clos de l'Origine before, so if you wanna refresh your memory, click here. The wine i wrote about was one of his whites, but this is something completely different. It's not red, that's for sure, but it's not really white either. Rather, this wine glows much like radiator anti-freeze fluid.. What? yup.. it does, check it out: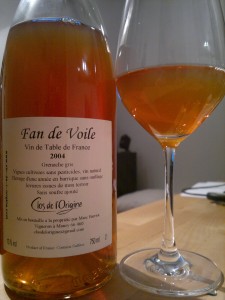 Date tasted:  January 26th, 2011 21:00
Appearance: Orange, brown, greenish color. Much like radiator fluid?? The grenache gris is a light red colored grape which with some skin contact should give the wine a pinkish-orange hue.. Judging by the look of this wine (the color), it does suggest some oxidative wine making techniques.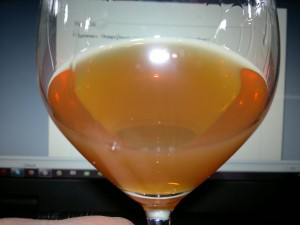 Nose: at first whiff, reminds of an oloroso sherry, or better yet, a Marsala. It is an oxidized style wine. It does have a bit sharper aromas with some citrus, orange peels. Almonds, raw. Dusty, wet stones. Hints of caramelized nuts as well on the back. Hints of espresso. Strange wine. Sherry-like tones are what I keep coming back to. Pecan pie? I should also say that the aromas jump out of the glass and you can smell it from feet away.
Palate: Bone dry. Slightly nutty at first with some citrus peel and mineral. Nuts come back after swallowing. A bit of an alcohol sting, but not too much warmth. Very, very slight hints of rancio, with the dried, spiced fruit. Oxidative style really dominates. Fresh and rather light with a pretty good structure. It's actually quite drinkable for this style of wine, but i still think I'd rather share the bottle. Semi-long, semi-sweet finish.
I wonder what Marc eats with this wine? Cheese? Charcuterie?? Or is it just as an aperitif?  I don't love it. I don't hate it…hmmmm, I'll have to try it again tomorrow.
January 27th, 2011 17:15
Nose: sweeter aromas today and more spicy notes. I swear i can smell dried apricots and more candied nuts. Much less noticeable alcohol on the nose today as well. I have to say that i am a bit surprised at how this has changed overnight for the better. Some of those oxidized notes that were so dominant yesterday have sort of «oxygenated» and burn off… an oxygenated oxidized wine?
Hmmm. My mouth is watering as I nose this glass…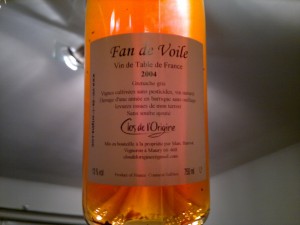 Palate: Much «sweeter» on the palate today as well. Again, those apricots and candied nuts that I found on the nose. Alcohol also less noticeable than yesterday. A slight, very pleasant bitter almond finish appears today, and i love it. This is a great aperitif. Something about this also reminds me a bit of a vermouth, like Martini Rosso (minus the sugar). Know what I mean?
The finish is also longer and sits on the middle of the tongue, and the roof of the mouth. Like sucking on a candy.
I am enjoying this wine much more today than i did yesterday. Has this wine opened up and improved since yesterday? Am I more relaxed today? Is it a «better drinking day»? Or is it just because the wine is a few degrees cooler today giving it all these positive attributes? I don't know. I know only that this is damn good right now. There is something about this wine that makes it much more quaffable than yesterday.
On January 30th, a few days after i started writing this tasting note, I got this message from Marc describing this wine:
"The Vin de voile is a mistake. he came from the quilles Libres 2004 grenache gris. i harvest the grenache gris the 20/08/2004, fermentation in big barrel for 30 days, then aging in barrels outside, bottling direct from the cask, only 13 % alcohol, a dry and fine rancio!!.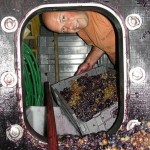 the color was a big rosé, so i put it outside in used barrels for 365 days. after sun, rain and wind it became a nice 'ptit Vin Jaune" …
i decided to bottle it (600 bottles). i have 192 bottles left. pretty hard to sell in France when it is not a vin jaune !!
it is very good with cheese and foie gras or such spicy meals, but French are very chauvinistic so i keep drinking it slowly and give for special tasting…"
In a separate message, he confirms that this was his first vintage with this grape variety:
"the famous grenache gris which skin color is red, so at harvest when i press a bit too much, i extract too much color… and so it became a nice rosé!!
it takes time to like it, try whit a manchego, anchovies and pizza or foie gras (half cooked) if you still have some…"
January 31th 2220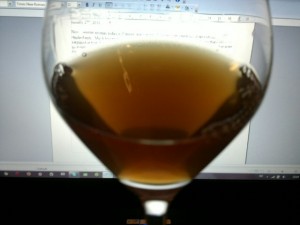 Appearance: Slightly more brownish in color as you see from this photo. This was to be expected as this wine is oxidized to begin with.
Nose: Aromas still jumping out of the glass as I pour the wine. Very «sticky». Marsala-like. Rancio more than on the previous days – these are my initial impressions as i am pouring the wine. I have yet to nose the glass. As I nose the glass I get very intense, nutty aromas today. Less fruity than on previous days. Walnuts. Nocino (walnut liquor). Worn leather.
Palate: Definitely more oxidized on the palate with some persistent bitter-sweet tones. Alcohol again more integrated. Long finish. Very marasala like and still very savory. I would definitely like this wine as an aperitif or with some nuts and cheese. .
I have tasted most of Marc Barriot's wines. I like them all, but I have to say that my favorite is still the 2008 P'Tit Barriot which he has bottled in 2 lots.  The first bottling/Lot 1 –  "a very small parcel of old syrah on gneiss soil in Latour. i kept it for 4 years , very old and very low yield."   Marc is currently bottling Lot 2 of this wine and here is the difference – "the second petit B is produced on the new terroir of Caudies far at the end of the department of 66, altitude quite high 360 m, limestone and schiste soil, lot's of bird, bees, grass so a big Life over there!! no neighbour, very quite and lovely name: L'amourouse in catalan mean the lover.  It is a carbonic maceration aged in barrel(6 months) and tank until now to loose the technologic aromas and get the terroirs taste of these very "green region" which is the fenouilledes compare to the moon of "Maury" ??
For me, the P'Tit Barriot is full of personality and should be tasted if you have the chance.  I find it very quaffable and easy to like.  And who can resist the label..