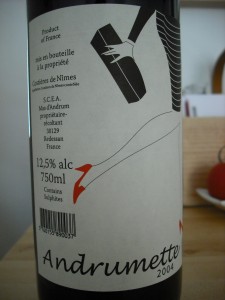 Mas d'Andrum
Route de Meynes
30129 Redessan
France

0033- 4 66202335
Date tasted:  September 13th, 17:05 (5:05pm) – 12.5% Alcohol with synthetic cork

The 17 ha Mas d'Andrum estate is located in the Costières de Nîmes AOC, in the South East corner of the Languedoc in France.  The Costières de Nîmes AOC was once considered part of the Languedoc region until 2004 at which time the Costières de Nîmes AOC was attached to the Rhône region since the typicity of the wines was more like the wines of the Rhône.
Mas d'Andrum was established around year 2000 by Stephan and Carolina du Toit of Mont du Toit Wines of the Western Cape in South Africa.  They enlisted the help of the late Bernard Breuer (Weingut Georg Breuer, Rheingau) and Bernd Philippi (Weingut Koehler Ruprecht, Pfalz) to get the project off the ground and it is my understanding that Bernd Philippi still has some involvement.
This is the very first vintage (2004) of the Andrumette and is a blend of Syrah and Grenache in equal shares. The grapes come from vineyards that are up to 50 years old.  The terroir is characterized by big red stones down to a depth of up to 8 meters called "galets", similar to those found in the Châteauneuf du Pape region. The grapes were harvested at optimum maturity, hand sorted and vinified with the skins  for about 30 days in cement vats where the wine was left for two years.  The wine was bottled in 2006 without filtration. The price is 89 Norwegian Kroner. Keep in mind that taxes alone account for more than half the price of this bottle, so that being considered, this is a rather inexpensive bottle of wine.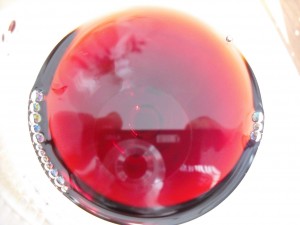 Appearance: Clean.  Medium brick red with some browning of the edges in line with it's  few years of age.  Medium  intensity.
Nose: Clean.  Medium to medium plus intensity.  Mature dark berries with hints of wild cherry.  Mineral and slightly oxidized.  Some rustic animal tones and cocoa emerging.  Very slight hints of olive and spice.   Medium to medium plus complexity.
Palate: Clean. Mature cherries and blackberries. Hints of wild raspberry lift the wine nicely. Medium minus tannins grip on the finish. Hints of spice and oxidation on the back end. Although this wine is quite light, fresh, and easy drinking, it has very good structure with medium complexity and a long, fresh finish.
Decanted and poured back in bottle at 17:20
17:50 (5:50pm)

Nose: Sour cherries really dominating with wild strawberries emerging – they weren't there before.
Palate: Acidity has kicked up a bit while the tannins have softened..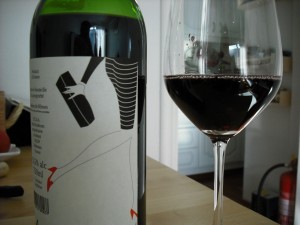 My overall impression is that this is serious value for the money. In Norway, you have to be very selective when choosing wines that cost less than 100 Norwegian Kroner. You have to be extremely selective at under 90 Norwegian Kroner.  There are very few wines available in Norway at this quality and price level.