The Greek-born (Princess) Coralia married into the noble Pignatelli family and together, she and her husband bought the The Castell'in Villa estate (more like a «village», hence the name) in 1969 and produced first vintage was the 1971. The vineyards cover a mere 54 ha of her vast estate and produce between 80,000-100,000 bottles per year, which is not much.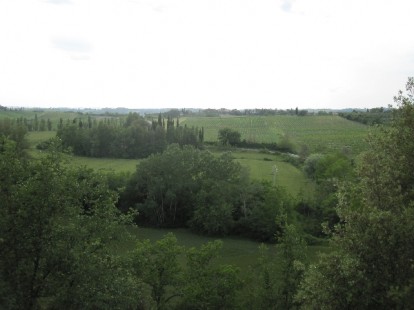 In total, the Castel'in Villa estate encompasses about 300 ha on which she produces wine, a very nice olive oil, runs a charming agriturismo, and a great restaurant.  The restaurant makes all the food fresh on site, and many of the ingredients are sourced locally, like the herbs, wild pig and the pheasant. Coralia is also an appreciator of eclectic art and some unusual sculptures can be seen on her property.  Although she is approaching 75 years of age, he demeanor and looks deceive that age, as she socializes with a glass of wine with you until late into the evening. Always poised and elegant yet never arrogant. A certain sense of calm emanates from her that is both charming and contagious.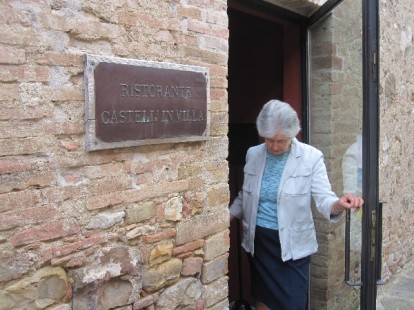 Castell'in Villa work very traditionally both in the vineyards and in the cellar and her vineyards are very much alive with wild pigs and pheasants (which you can hear quite clearly throughout the day & night). The wines ferment spontaneously, except in extreme vintages where a neutral yeast might be added to commence fermentation.  If I heard correctly, they have only had to induce fermentation once in the most recent years. Maturation in large Slovenian botti  give these Chianti's a very traditional feel even though they are 100% Sangiovese, which until recently was not allowed under the legislation. It was customary to blend in some other local red grapes and even some white grapes. I would like to note that I overheard Coralia saying she had just purchased some new French botti so it will be interesting to see how this affects the future vintages.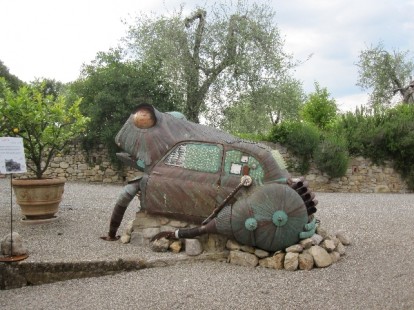 I wasn't much of a Chianti fan until I had tasted some older vintages a few years ago and I recommend to do your best to taste an older vintage to really appreciate a Chianti.  On this recent visit to Castell'in Villa, I got to taste the following wines (in order of vintage from youngest to oldest):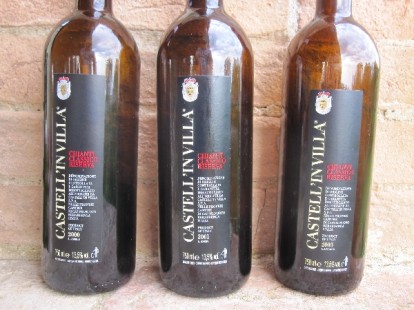 2006 Chianti Classico Riserva – (not yet for sale) Tight and a bit closed. Very serious. Concentrated and young and one of the only wines I tasted that showed hints of dark fruit. Rough and young tannins.  Hints of spice. Yet remaining fresh.  Really a storage wine.
2003 Chianti Classico Riserva – very open, but at first appearing a bit overripe and representative of the 2003 warm vintage. Only 10 min in the glass and the wine opened to reveal bright red fruit and spice with hints of smoke. Nicely integrated oak.  Became very fresh and drinkable with very refreshing acidity. I enjoyed this vintage tremendously.
2001 Chianti Classico Riserva – A more classic & reserved nose with less development snowing than the '03 even though it was two years older. Less raspberry and more cherries. More classic and typical Italian nose. A youthful nose with hints of balsamic evolution. Roses and rose hips.   On the palate, cherries and cherry pips. More restrained than the '03 yet more structured and serious at the same time. Surprisingly young considering it's 10+ years. Nicely integrated oak. More tannic also than the '03. In my opinion this wine needs 8-10 more years to really show its stuff.  The '03 is more drinkable and refreshing and easier to drink (quickly).
*The '01 you talk about and the '03 you drink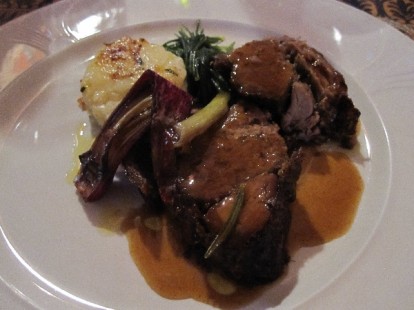 2000 Chianti Classico Riserva – another warm vintage. Nose – more serious again then the '03 but showing more evolution than the '01. Mineral with cherries. Feels more mineral than '01. Very open and floral with hints of balsamic, but only hints. Feels a bit more alcoholic than the other two vintages. Fresh but somehow a bit more austere than the previous two. The alcohol sits a bit in the back of the throat. Some nutty hints on the nose, which I don't mind. Not as fresh as the others with some acidity which pokes a bit making it a bit more challenging to drink on it's own. The least drinkable so far. Not sure this wine has potential to improve in the cellar. It seems the fruit is more evolved than the structure. Medium tannins. Spiky, edgy and not so balanced in my opinion.
1993 Chianti Classico Riserva – evolved on the nose. Stewed cherries and hints of balsamic. On the palate still very much alive and vibrant with vivid acidity. Notes of lavender fill the glass and my nose. Very enjoyable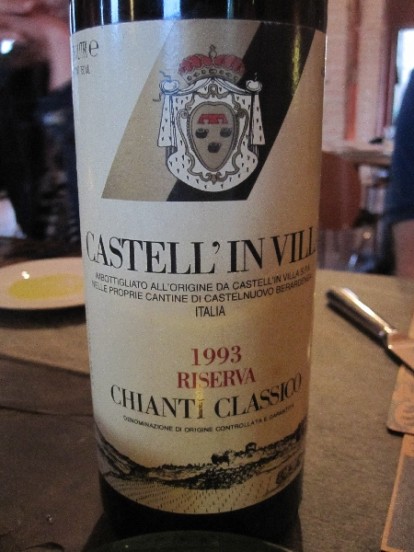 1983 Chianti Classico Riserva – surprisingly quite closed initially. Very timid on the nose. Balsamic notes. As it opens, it feels more serious and sure of himself even than the 1993. Hints of licorice.  On the palate the wine is quite open and focused with sweet tannins and fresh acidity.  More herbaceous and spicy than the 1993. Sweet ripe fruit, raisins. Still very focused with really sweet fruit. Honestly, still a young wine with many years to go.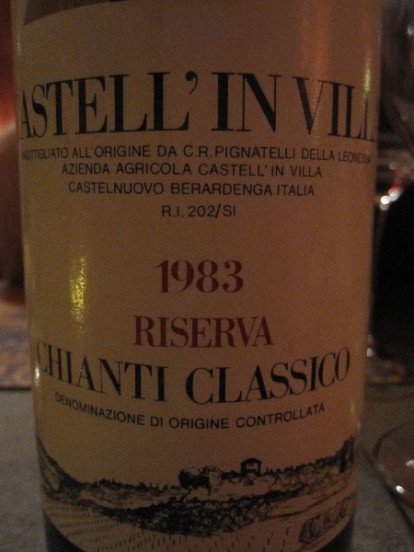 2008 Chianti Classico – fresh and expressive. Sour cherries, refreshing and light. Long with medium tannins. Good alcohol integration. The nose is wide open. Fresh and vibrant. Long.
2008 Chianti Classico Riserva Poggio Delle Rose – Some dark fruits. Very structured  and oak is a bit evident, but not dominant. Darker fruits then the other wines. Stronger tannins from both the fruit and wood.  A bit earthier than the others, you can taste the soil in the wine.  Summed up, this wine has fantastic fruit and concentration. However, not my style of wine.
1995 Vin Santo – fresh and light and with such great, ripe acidity that the wine finishes dry. Sultana's and nut's. "Amabile ma secco" (fruity/sweet but dry). "Lascia la bocca pulita con un bel ricordo" (leaves the palate clean with a nice memory/souvenir)