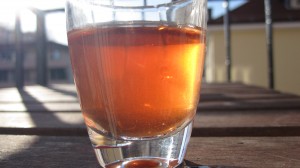 This project of mine started when I ordered a case of Frank Cornelissen Munjebel Bianco 5 and was lucky enough (rather unlucky) to receive a case with an open bottle.  This was the infamous bottle I had heard about a few months back. I was speaking to importers of this wine and they mentioned they had a customer of the Vinmonopolet (Wine Monopoly) return a case of the wine because they thought there was something wrong with it (we won't get into this here, you know it's my favorite wine…).  When I discovered this open bottle in the case, I thought "what the hell?! Why would they send this to me without opening the case and checking?!"
Well, you know the old saying.  Nature gives you lemons, you make lemonade. In this case nature gave me an almost completely full bottle of Munjebel Bianco, so I thought "why not make un-sulfured vinegar?".   So here it is, about 6 months after I started this project.
I apologize in advance to the wine makers for converting their lovely wines into a lovely vinegar. I am storing the vinegar in a magnum bottle. Only unsulfured wines will be added as needed).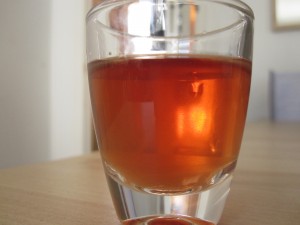 Color: Orange, copper.. Well you see in the picture!
Aromas: Acidic, vinegary with hints of orange citrus and toasted hazel nuts
Taste: First attack is orange peel with  hints of fresh fruit which is immediately followed by a grapefruit and vinegar taste. Medium acid with a slightly nutty finish. Very fresh and persistent finish which lingers without too much burning at the back of the throat.