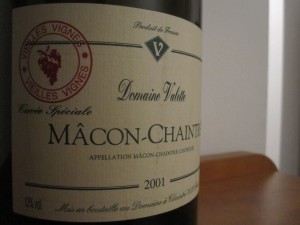 Hailing from the southern reaches of the Burgundy wine region in France, one can often expect low-acid ripe Chardonnay's, plenty of oak, and doses of sulfur to make the eyes and nose sting.  This wine seemed to have escaped these cliché's nicely. For one, the wine was not lacking acidity, and at 10 years of age, this is not an everyday feat. Secondly, although there was some oak use, it was used judicially and had integrated quite nicely in this wine. Thirdly, no stinging of the eyes and nose, a great indication that sulfur was used in very low doses.
I don't know much about this producer, nor could I find much out utilizing my usual information-gathering tactics.  Philippe Valette is well-known for working naturally, and that's about all I could gather. You could read a bit more here.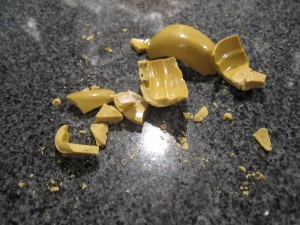 Date tasted: January 11th, 2012 at 21:15
I don't mind waxed bottle tops, in fact I rather love them. They signal to me that something interesting awaits me under that cork. Often used on the tops of natural wines, my palate immediately starts to salivate. Not unlike Pavlov's dog hearing that bell jingling. And, let's face it, perhaps it helps keep unwanted oxygen out of the bottle. No? However, this wax was not soft and easy to remove. It had hardened into something like cement which I had to chip away into little pieces to reveal the cork. But once I got to the cork and removed it, this is what I found:
Appearance:  Golden-yellow color, age not immediately evident on this 10 year old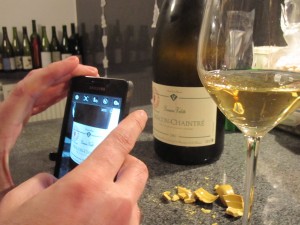 Nose:  Jura-like nose, first thoughts were: What, Tissot? But, a little more delicate. Mineral. I wasn't immediately sure whether this wine was oxidizized (either from age or wine-making) or if those yeasty-like, "flor-like" notes were from wood. Some Burgundy wines, especially the whites, seemed to go through some growing pains in the late 80's and early 90's, with some wines showing some premature oxidation.  Let's give this magnum some time…
Palate:  Dry with  refreshing acidity. Balanced and long. Interesting at first sips, the wine quickly started to head in the wrong direction. It seemed to start closing and masking the fruit. Even showing some signs of oxidation on the palate.  Have we waited too long to drink this wine? Did we open it too soon? Burgundy is always challenging.
It sooned fooled me into thinking that the wine had hit its prime a few years earlier. Is this possible? Slipping so quickly? A magnum!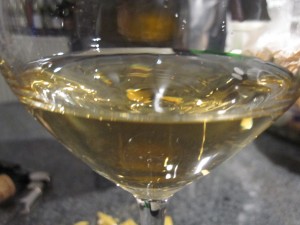 But…as more time passed, the wine started to change. Those funky oxidized aromas that this wine hid behind, began to lift. Fruit began to shine and the Chardonnay character really started to come thru. The wine became more focused, the acid more lively. Good thing this was a magnum….it gave us enough wine to allow these changes to come around before the wine was completely drunk up.
One thing to note is that very often the Chardonnay's from the Mâcon can be quite oily, fat and rich. The only thing this magnum had in common with those charcteristics was the oiliness. It had great texture, mouth feel, concentration and structure.. what else? It wasn't a fat wine, nor was it rich, and I am grateful for this actually.
And yet again,  Burgundy has challenged us, fooled us, played with us. When we reached the end of the bottle, it left us  wanting more just so that we could continue to see the evolution that unfolded in our glasses. A wine I would gladly drink again