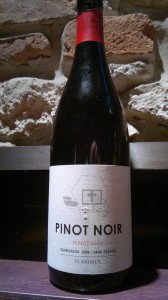 We are in Hungary now.  Not the famous Tokaj region centered around the small town of Mad, known for its glorious sweet Aszú wines.  Rather we are a bit further south and west. Perhaps the second most well-known wine region in this (perhaps under appreciated) wine producing country. We are in Eger.  Home of the "Bulls Blood",  or locally "Egri Bikavér".  Although ecological conditions favor white wine production, the fame of the region lies in its reds.
St. Andrea follows a simple philosophy, one that is not so seldom heard these days:  "The quality of the wine is decided in the vineyard". Not a new way of thinking, but a more and more common way of thinking. A philosophy that for the most part I agree with. You certainly cannot make a great wine without great grapes. But one cannot ignore the wine maker.  This is where a wine maker who listens carefully to his grapes can mean the difference between an average, every day bottle of wine and a great bottle of wine.  Dr. György Lőrincz (owner/oenologist) says "If an oenologist reaches this level of quality and can maintain it continuously with undiminished energy for decades, his vineyard can become deservedly prestigious, and establish iconic wines that can motivate other enthusiastic oenologists."
I heard rumors that many consider St. Andrea as the best Pinot Noir producer in the area.   2,834 bottles produced
Date tasted:  May 17th, 2011 19:07
Appearance: very light in color, almost rosé like.  One of the lightest Pinot's I have seen in a while. Medium intense reflexes. Young.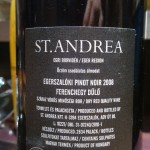 Nose: Wood, forest floor. Oak not abusive to the fruit. Ripe raspberries with smoky hints. Quite open already. Alcohol stings the nose a bit.
Palate: good attack and good structure. Medium plus acidity, nice fruit,  oak sits around the whole wine, gently coating the tongue and mouth. Surprising freshness. Alcohol is quite fresh and doesn't dominate the wine.  For my palate, the oak is too much a piece of the puzzle. Perhaps the producer intended that this wine be stored a few years, but I'm not sure this is a wine that will improve for the next 5 years in the cellar. Judicious use of oak none the less, but it loses a bit of it's drinkablity for me because of the oak, unfortunately. Drink now or enjoy over the next 3-5 years.