It has been almost a month since my last post, here is what has been keeping me so busy:
Working a lot at Jacob's…
Preparing for my wedding….
Traveling to Italy…….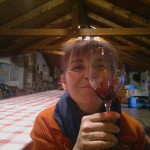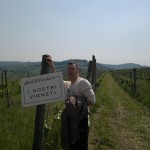 Visiting Carussin in Piemonte to taste the 2010 vintage, which by the way is still slowly fermenting and showing itself to possibly be their greatest vintage.  Absolutely alive in every way.. "All of these years of biodynamic farming are starting to really show us rewards", says Bruna Ferro.
Thus far, none of their wines have been shown even a pinch of sulfur dioxide.   These were the healthiest of grapes. Bruna even presented me with two bottles to taste. Both made with the exact same healthy barbera grapes, grown biodynamically.  One bottle was produced in the same way Carussin make all of their wines (without the addition of anything, not even selected yeasts). This wine was still happily finishing its fermentation. The second bottle was produced by sending their grapes to a laboratory. Everything was added to this bottle from selected yeasts, to enzymes and sulfur. This bottle was of course "ready for market".  The difference between these two bottles was astounding. Astounding. Everybody should have the opportunity to experience such a tasting.  This shows that although healthy grapes are extremely important,  care after harvest is also extremely important.
Of course a quick trip over to Igino and Irma was a must, and as usual, an extreme pleasure. Tasting the wines of Igino again was just amazing. From his skin macerated Favorita, to his non-sparkling, dry fermented Brachetto. Too bad he only makes a few bottles of each and are only produced for his enjoyment (and of course mine)
On this quick trip to Italy, I also had the incredible fortune to meet Gabrio Bini (and his wonderful wife Genevieve), wine maker for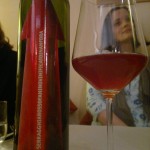 Azienda Agricola Serragghia on the island of Panteleria. All of his wines are vinified with long skin contact in amphora without any additions..I will write more on this wine maker and his wines in a future post.. promise.
Gabrio and Genevieve were kind enough to meet me at La Fastuchera Osteria Wine Bar, one of the only places to drink natural wines in Bologna.  With a Sicilian kitchen and an interesting selection of wines, they are worth a visit!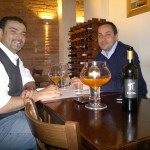 Oh, and of course lot's of packing going on as I write this piece in my half-empty apartment as I prepare for my transition to a new home in a new country.  I look forward to the many changes. Many will be easy, some more challenging. Until my next post (which will be more often), continue to appreciate what you have and keep tasting.