Date tasted: 8th March, 2009
This has always been my favorite Cuvée from the well-known Champagne house Billecart-Salmon. They also produce a benchmark Rosé (many think that the name Salmon is the name given due to its color) that is a favorite among many Rosé Champagne lovers. Located in Mareuil-sur-Aÿ in the Valée de la Marne, this house was founded in 1818 by Nicolas Francois Billecart and Elisabeth Salmon.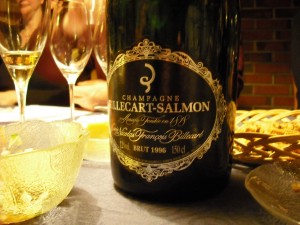 This is cuvée was created in 1964 as a tribute to the House's founder. It results from the blending of Grand Crus from the classified Côte des Blancs vineyards (Chardonnay – 40%) and the Montagne de Reims (Pinot Noir – 60%).  Alcoholic fermentation is carried out in steel at a very low temperature of 12C (about 54F).  After the malolactic fermentation, this wine is left to age on the lees in the bottle for at least 6 years (this was the amount of time for the 1/2 bottle, so the magnum could have been on the lees longer) before dégorgement (the process of freezing and removing the end of the bottle to extract sediment after the second fermentation of a sparkling wine).
On the nose: Fresh white toast, in other words, lots of autolysis (yeast). Fresh red apples and some minerals also appeared on the nose.  After some time being opened, I got the sensation of roasted duck breast on the nose as well. On the palate, this wine was extremely well balanced and extremely young and well-balanced. Excellent concentration of red apples, yeast and minerals.
This Champagne is extremely drinkable now, but in my opinion has huge cellaring potential. Keep in mind that this was a Magnum (150cl) and the 1996 vintage is considered by many to be one of the finest vintages of the century. Magnums tend to age more slowly and are referred to by many as the bottle size of choice for Champagne's and other wines.