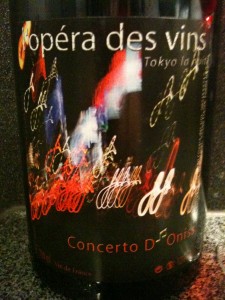 Of the many many many wines I have tasted over the years, Jean-Pierre produces some of the most vinous wines I have ever had the satisfaction of tasting.  So, to summarize even before I begin this tasting note, this wine is super-vinous. What do I mean by that? When you pour the wine, there are two things you notice right away: the beautiful light pomegranate color and the way the wine pours from the bottle. It pours like you are pouring a light oil. Even when you swirl the glass, it seems as though you have a glass of pomegranate-colored oil. It appears thicker than other wines.  And nothing has been added to this wine to make it this way. It's just great quality grapes that have been squeezed just right.  So, why this oily appearance and texture? That my friend is what we call structure and concentration that you can not only see, but that you can taste.
The labels? Well, Jean-Paul has either taken the photo or painted the picture himself to create his labels. All of his labels are unique and each wine and vintage has a different label. They are as unique as his wines.The Concerto d'Oniss is his base wine and is made from 100% Pinea d'Aunis grown in the Loire Valley (mostly around Tours, Anjou & Saumur) as naturally as possible, avoiding ALL treatments to the vines.  A grape dating back to the Medieval Times, not many producers grow this grape thanks to the ever-increasing demand for more well-known varieties. Thankfully, there are a small handful of producers who still work with this grape. I have tasted the wines from 4 or 5 different producers working with this grape and have noticed certain common characteristics: lightish red color, lowish alcohol, aromas and scents of grapefruit, light pepper & incense, & small red berries.
After manually harvesting these small, dark grapes, whole clusters were dropped into fiberglass tanks without any additions whatsoever, at any point.  No temperature control means partial carbonic maceration for the first few days.  Maceration went on for about 3 months then the wine was bottled without fining or filtering.
After tasting this wine many times and in various vintages, I'm finally writing about it.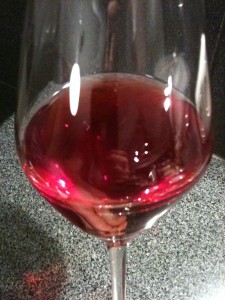 Date tasted:  Sunday February 26th, 2012 18:30
Appearance:  viscous viscous viscous! See photo for color
Nose:  grapefruit, incense, pepper, little red berries, forrest floor with some faint reductive hints.  Hints of wild strawberries. Hints of cough syrup, the oily kind that leaves a slightly bitter smell and taste. Even looks like cough syrup
Palate:  grapefruit, smooth tannins, but more grippy than I remember. Great acidity, but smooth and absolutely drinkable. Red cranberries. Very rustic and again the oily exture like all of his wines. Slighty metallic, which I have not found on any previous bottles. Wild strawberries, but without the sugar. Pomegranate.
There is a certain weight to this wine that I find on all of Robinot's wine's. They seem particularly viscous, oily and heavy, but light on their feet at the same time (strange but true). The concentration and structure of this wine, of his wines, are among the best I have tasted in the natural wine world.   Texture is a bit like a dessert wine minus the sugar
Monday February 27th, 18:30
Yes, yes I did leave some in the bottle for tonight. Crazy, but I am super happy I did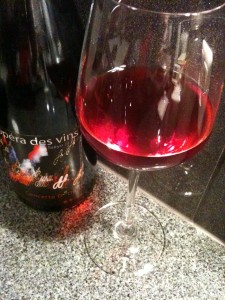 Appearance:  Not much change that I could see, but perhaps a tad darker
Nose:  More aromas of incense and pepper.  Deeper fruit (still red).
Palate:  right when the wine hits the mouth, it's that oily texture again. Impressive. A salty impact I didn't get yesterday. Also a depth I didn't get yesterday.  A certain sweet aftertaste I can only compare to sour fruit that ends on a sweet note giving them that perfect balance.  medium length and still as refreshing as yesterday. Softer tannins today.
I am reminded of why this has always been one of my favorite wines. it is unique, the texture is magnificent, it's fresh, and it's drinkable.  I just noticed that nowhere in this tasting note have I mentioned the alcohol, and that is because it so not noticeable that it isn't even an issue. At 12% you wouldn't expect it to be, but i have tasted many wines where even low alcohol can put a wine out of balance
Some final words to summarize the wine: structure, concentration, balance, drinkablity.