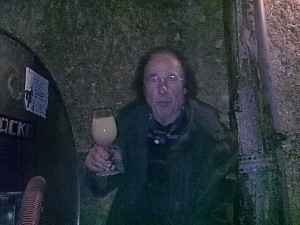 (I am sorry for the quality of the photo's in this post. Since I am not a photographer, I should really apologize at the beginning of every post, but the photos in this post are especially low quality – blamed on the settings being incorrect on my "wonderful" camera phone. Oh, and although this post seems long, it's mostly full of pictures to entertain you)
Tuesday November 3rd, 2009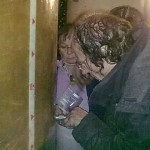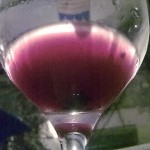 Our goal was to reach Jean-Pierre Robinot sometime in the afternoon, but when visiting with natural wine makers, it's really best not to have a schedule! We left Griottes quite late, and it was at least a 2 hour drive to Robinot's, so we didn't arrive until around 2200 (10pm) that evening.  Nevertheless, we were greeted by the very energetic Jean-Pierre and his wonderful wife Noella. He immediately took us into the cellar where we began to sample his 2009 harvest of Pineau d'Aunis right from the fiberglass containers where they had just finished fermenting.  We started with the 2009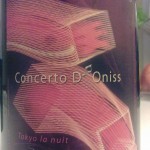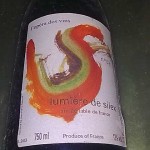 Concerto d'Oniss  which was fermented using purchased grapes from farmers (and friends) who have the same values and ideals in the vineyards as he does.  This "basic" wine of his will be bottled straight from the fiberglass tank and spend no time in any other container.  Wines made from purchased grapes go into bottles labeled under the product line   "L'Opera des Vins". This is one of my favorite of Robinot's wines due to the clean, precise fruit and no oak influences.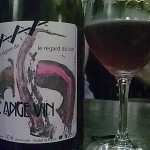 We also tasted the just finished fermenting wine from grapes growing in Jean-Pierre's own vineyards which will for the most part spend some time in oak before being bottled with labels indicating that the grapes were his own by the product line "Les Vignes de L'Ange Vin (L'Ange Vin for short)".  These were so stunning that I feel confident when I say that the 2009 vintage for Jean-Pierre Robinot will be top!
After a few quick hours in the cellar tasting the new wines, we retreated back to the home of Jean-Pierre and Noella, where Noella started to cook a wonderful home-cooked meal which consisted of vegetables from their "natural garden".  Grown in the same way their grapes are grown, the vegetables are left to grow "wild" without the use of any chemicals nor fertilizers.  We started dinner at around 130am, which I must admit was probably the latest dinner I had ever had!  Jean-Pierre's energy never faltering!
Jean-Pierre's labels for his wine bottles are reproductions of his full-size paintings which are scattered through-out the Robinot home. It's obvious that when Jean-Pierre is not hard at work with his vine and wine, he is painting, his other passion. His labels are all different, unique and my opinion, very beautiful.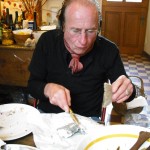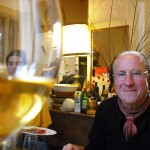 The next day, we had a quick lunch together as Jean-Pierre hurriedly ate so that he could be off to great a small group of Japanese wine tourists who were looking forward to tasting Robinot's wonderful wines.  It seems that the Japanese really appreciate and understand natural wines.  After lunch, Noella took us to see the vineyards, and I have to say, they were truly a sight. Now I have seen many vineyards including biodynamic ones, but these had to be the most natural vineyards I have ever seen. The vineyards that in my opinion were the most stunning, were his old-vine Pineau d'Aunis. These 100 year-old+ vines where growing in a field of weeds, they were covered in moss and ivy and looked absolutely at home there.  She mentioned that the vineyards were the laughing-stock of his conventional neighbors, yet produced the greatest grapes in the area by far. When walking through the vineyards, I couldn't help but notice the way the soil was soft and just gave way under the weight of my body. The soil was very much alive, and the bugs and insect in the area were proof of this. By contrast, when we walked through the vines of the neighboring vineyards, it was like walking on cement. The soil was extremely packed and dead. Not a bug in sight. Soils that have been killed by the use of chemicals take years and years to recover. I am told that even 10 years after converting the agriculture to organics, the soil is still not completely alive.
After our vineyard tour, we met with Jean-Pierre in his cellars to taste from the barrels. We tasted at least 40 wines ranging from his top reds, base whites (Chenin Blanc) to some of his sweet wines and even some Vin-Jaune-like wines that had been in barrel for 5 years and more and had developed the wonderful flor that develops in the wines of Jerez and the Jura.  Jean-Pierre left us to run off to Paris for the weekend, where we were to meet again on Saturday night for dinner!
We spent two nights at the Robinot's modest home where were fed only vegetables from their garden and meat from friends who had raised the animals in a natural environment. For their hospitality, I am completely grateful. They were extremely gracious hosts. Simple, yet complex people who truly lived off the land and who enjoyed every moment.
My final thoughts about the wines of Robinot are that his wines are dark, haunting, complex, while maintaining a certain freshness and drinkability which I find too many wines lack.  His wines are not easy to understand and are full of mystery, as are the Robinot's