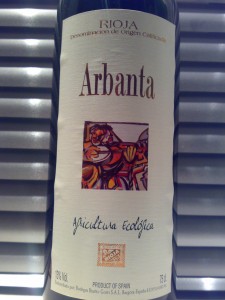 Date tasted:  May 7th, 2009
Not only is this wine certified organic, but it's also somewhat of a rarity of the wine world.  In the Rioja region of Spain, wines have traditionally been aged in oak (with exception are the Joven wines which may not see any oak at all).  And I am being kind here because not only have wines from Rioja been traditionally aged in oak, but often wines were aged for many many many years in oak.  It wasn't uncommon to see wines, including whites, to be stored in oak for 20 years, although 2-5 years was more usual.  On top of that, American oak was often used imparting in my opinion, well you know, unwanted flavors in the wine often covering up the beautiful fruit.
The fruit in this case being the very underrated (by some) Tempranillo grape. "The little early one" as it's called due to the fact that it usually ripens a few weeks earlier than other Spanish varieties, is a grape that can produce full-bodied wines with a huge aging potential.  Not only can they age for decades, but they do so gracefully.  At a "blind" wine tasting that I attended last year with fellow enthusiasts, half the group mistook a 1982 Rioja for a Burgundy (Pinot Noir) while the other half mistook the wine as a Barolo (Nebbiolo)!  No joke, and we were a pretty talented bunch!
Now on to this wine.  The bodega Biurko Gorri is a family run estate with one aim "they use their wine-making tradition and great care of their vineyards along with very modern installations to produce and age high quality wines".  The vineyards are found on the sunny slopes in the area at an altitude that  give the grape an excellent balance of acidity and ripeness.  The fruit grows on old vines (15-20 years) and most of the 30ha are organic; organic fertilizers are used, not herbicides nor synthesized chemicals.  The wines made from these grapes go on sale under the Denominación de Origen Ecológica as well as the D.O.C. Rioja.
This Arbanta wine comes from organic vineyards in carefully chosen well-ventilated areas at high altitudes.  The vineyards are located in the small town of Bargota in the foothills of the Sierra Cantabria Mountains.  The grapes are destalked.  Fermentation is with natural yeasts in stainless steel vats at controlled temperatures between 20 and 28ºC. Natural fining through decanting and racking.
Appearance: A very youthful reddish purple.  Good color concentration with a medium intensity.
Nose: Wild strawberries and other berries.  Plums and flowers.  Mineral undertones.  Hints of orange peel and anise.

Palate: Plums, blackberries and hints of sweet licorice.  Nice gripping tannins with a long mineral aftertaste.  Great concentration.  Light & fresh with medium acidity.

A wine to be enjoyed young.  No sense aging this wine as it's so good and fresh now.  I would enjoy this wine with some grilled light colored meets like chicken, or some aged hard cheese.  If you like fish with red, this could be an option as well.
I am extremely happy to live in a time when new wave Rioja wine makers are reducing oak use to such a degree that some are skipping the oak all together.  It allows us to better understand the fruit as the fruit becomes clear without the clutter of artificial (oak) additives.