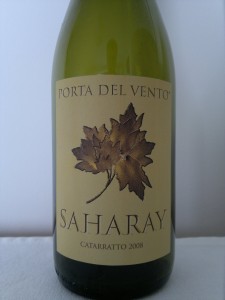 Azienda Agricola Marco Sferlazzo Contrada Valdibella 90043 Camporeale, Sicilia info@portadelvento.it
www.portadelvento.it
Certified organic Catarratto grapes grown with the help of biodynamic preparations at an altitude of about 600 meters above sea level. Grapes are harvested by hand and brought immediately to the winery where they are gently crushed and left to ferment spontaneously. The skins are left to macerate with the juices for about 30 days in open oak vats without temperature control and without the addition of sulfur. Punching down the cap is done by hand 3 times a day, followed by a soft pressing in a manual press.  Maturation in 2500 litter botti (oak barrels) for just under a year. Bottled without filtration and without the addition of sulfur, of course.
Date tasted (numerous times, but for this note):  Sunday September 11th, 2011 9:00pm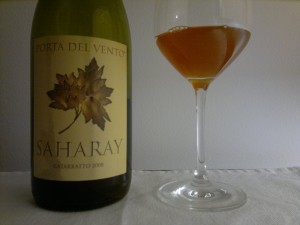 Appearance: Dark orange-amber with brownish reflexes (which increase with time in the glass). Shows a bit more age than the 3 years would indicate.
Nose:  spices, apricots, ginger, leafy, molasses and hints of volatility give this wine an interesting edge which keeps  you sniffing it for minutes and minutes before tasting it. Like many skin-macerated whites, this wine hints of sweetness which could lead the unsuspecting to expect a sweet wine on the palate. The last sniffs reminded me of Vin Santo (a sweet wine from Toscana made from dried grapes)
Palate:  I have tasted many skin-macerated whites and knew what to expect: a fruity, yet bone-dry wine. What I didn't expect (and always surprises me with this wine) is the tannic structure. Owing to the long skin-contact and 10-12 months in oak barrels, this wine packs a tannic punch making it a perfect match for fatty foods such as Fois Gras, duck and some creamy cheeses.  I have also had success serving this with savory dishes like mushroom soup. Very spicy (cardomom, cinammon and ginger) with the usual yellow fruits like apricots and peaches. A semi-long and dry finish round out the wine nicely.
I like the wines of Porta del Vento and have tasted almost the entire product line. The prices are fair as well.  The Saharay I especially like because of it's masculinity, a trait I don't often find in skin-macerated whites making this wine more interesting to me. But I also have to point out a negative characteristic of the Porta del Vento wines I have tasted.  As far as I know, all the wines spend some time in oak and leave the mouth with this rather disturbing dryness. A dryness that can be attributed not only to the fruit, but to the oak.  Oak is certainly not dominant in their wines, in fact I would say that the oak is used judicially (it doesn't "flavor" the wine).   I just prefer to have no oak in my wines letting the fruit shine through without any interruption, especially in wines that have such fresh fruit character, like the wines of Porta del Vento.  The other complaint I have is that these wines should be drunk up the night you open the bottle. Two or three days open and I find that the wines oxidize.